Sergey Nivens - Fotolia
IoT systems could fuel smart cities -- with caveats, say experts
The Internet of Things could help cities address traffic congestion, resource scarcity and other problems. But structural and human obstacles remain.
SAN FRANCISCO -- As America's cities struggle with traffic congestion, overpopulation and energy problems, they are turning to the Internet of Things to get themselves above water. But they need to face age-old problems, like data silos and consumer skepticism head-on, say experts in the trenches.
The Internet of Things (IoT) holds promise for cities by curbing resource waste and making operations more efficient. Connected devices can indicate when it's time to pick up trash in public areas or when street lights should turn on and off. It also offers cities the opportunity to tap into data they have never had access to and help modify human behavior, such as consumer use of water in the state of California, which is currently experiencing one of its most serious droughts in history. IoT-connected devices may be installed in cars, refrigerators, or power whole cities. These devices gather and send data about product usage and even human statistics via the Internet and offer the possibility of using various resources at their most optimal level.
Research firm Gartner Inc. estimates that smart cities will use 1.1 billion connected things in 2015, which could increase to 9.7 billion by 2020. But the promise of IoT is undercut by structural realities that have not yet caught up. Most cities, for example, face serious departmental silos and, thus, data islands that can't easily be merged. So too, legacy infrastructure and other technology can hold IoT back from making this data accessible. And public skepticism about data privacy and an overly automated universe continue to thwart the progress of connected devices.
"We are using 20th-century solutions for 21st-century problems," said Jonathan Reichental, chief information officer for the city of Palo Alto, Calif., at the panel, "What is driving investment in smart cities and what does the investment climate look like?" at the Internet of Things World conference in San Francisco this week.
"All cities are [addressing resident needs] on their own," he said after the session. "You can have a cluster of cities and each has their own fire service. Why don't we have one service for the whole group? So there are serious structural issues to overcome, and that trickles down to the technology."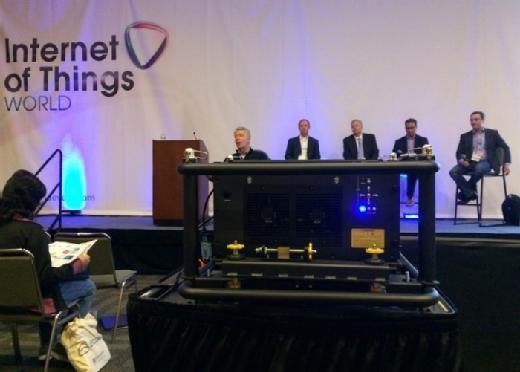 Smart cities can get smarter with IoT
While the Internet of Things faces some hurdles, there are notable examples of cities using Internet of Things technologies to curb waste, bring efficiencies and save serious dollars.
Toronto, for example, has been able to use digitization to move away from written checks for those on public benefits to creating digital payment cards. Many of the recipients are homeless or transient, said Jesse Berst, chairman of the Smart Cities Council. But today "they can join the digital economy. They don't have to give 10% of their check to a payday loan or walk around with cash that could be stolen from them. They don't feel the stigma as much and the city has saved $2 million."
The city of Copenhagen has enlisted IoT systems to power its street lights, replacing 20,000 LED lights with power from renewable energy sources. The street light initiative was the "gateway" to other IoT technologies, including parking and traffic sensors, enabling the city to start slow and build the business case. Today, Copenhagen has achieved 65% energy savings, said Brandon Davito, VP of smart cities at Silver Spring Networks. With new departments and services being added to the same IoT network, it's cost-effective and helping to solve data silos. "It's much less than cellular and much more flexible," Davito said. "These departments can gain the real benefits of the network where all devices talk to each other and talk to a shared infrastructure."
The human element
But experts said that these successes are countered with the reality that many cities are still struggling with basic challenges, like how to create public-private partnerships so private industry can benefit and cities can become more efficient.
"Municipalities don't need to make any investment in bringing Zipcar to a city," said Brian Harrington, chief marketing officer at Zipcar. "They just allow us to park in garages or on the city streets. It's a way to benefit citizens and reduce emissions, congestion and provide a level of sustainability along with rising the tide in allowing folks to live in healthier ways."
Zipcar, a car-sharing service in 26 cities throughout the country that is headquartered in Boston, pays to park its cars in parking lots and on streets in various cities, despite the fact that its ride-sharing service is about reducing congestion and helping citizens live healthier lives. "It's a public policy issue in terms of who owns and has access to the streets," Harrington said. And despite the fact that Zipcar is providing services that ease city congestion, pollution and more, "The crazy thing is we pay cities to make the cities better places to live in," Harrington said. "We typically pay for parking."
Harrington said that part of the challenge is to re-orient how people think about resources like parking spaces. Rather than simply having a proprietary attitude that "That parking spot could be mine," Harrington said it's about educating citizens that designating some spots to Zipcar is part of creating a public good and improving quality of life for everyone.
"So it's about trying to have an intelligent conversation about what's the best and highest use of parking spaces for the common good is where it starts," Harrington said. "You have to start having a conversation with citizens."
After a session attendee asked about customer pushback with demand-response solutions that force consumers to curtail consumption of resources like energy, Davito said that it's important to make choices clear for consumers and have them understand the tradeoffs that IoT creates: less individual control, for example, but more cost savings.
Oklahoma Gas and Electric implemented an IoT system with help from Silver Spring to automatically dictate home heating and electricity for consumers. There was little pushback, he said, despite the fact that the region is not oriented toward environmentalism.
"We found you need to make this simple for consumers. [Oklahoma Gas and Electric said to consumers], 'You have two choices: Either you focus on pricing or you focus on comfort,'" Davito said. "Most consumers skew one way or the other. And OG&E has avoided building two coal-fired power plants because of this technology investment."
The question is whether consumers are going to be led to water in seeing cost savings or they will continue to buck change.
Mike Carlson, president of Siemens Smart Grid Division at U.S. Siemens, said that consumers don't need to be dragged. Real demonstrations of cost savings and efficiencies are persuasive. "Part of it is education, and part of it is the willingness to quote 'suffer' when there is an economic value attached to it," Carlson said. Carlson noted that refrigerator energy consumption largely comes from the defrost cycle, not normal use. Enlisting IoT systems to regulate that cycle could create significant cost and energy savings, and "consumers don't care when that cycle takes place."
But experts like Berst said that changing human behavior is a significant hurdle. With human behavior entrenched, he said, IoT systems will have to show savings and benefits, and lead consumers to them as solutions.
"It's going to be a lot easier long term to make devices smart about energy than to make people smart about energy," Berst said.