Definition
smart home hub (home automation hub)
A smart home hub is a hardware device that connects the devices on a home automation network and controls communications among them.
The devices on a home automation or smart home network might include -- among many other possibilities -- thermostats, light bulbs, wall outlets and switches, door locks, energy monitors, window coverings, appliances, motion sensors, leak sensors and wireless cameras. These non-computing devices usually include smart sensors to enable control and communications.

Download this free guide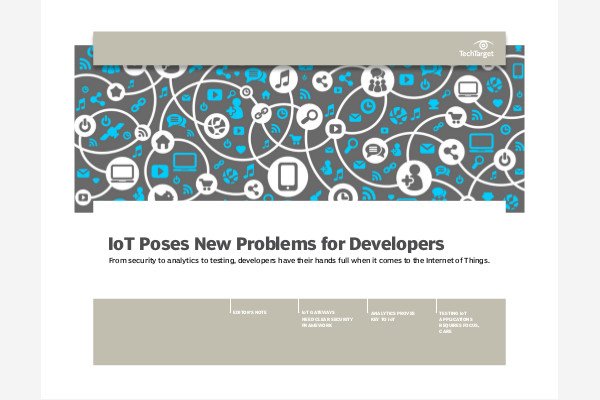 Download Now: The Developer's Guide to IoT
The Internet of Things (IoT) world may be exciting, but there are serious technical challenges that need to be addressed, especially by developers. In this handbook, learn how to meet the security, analytics, and testing requirements for IoT applications.
Hubs, in general, are network devices that serve as place of convergence where data arrives from one or more devices and is forwarded out in one or more other directions. A smart home hub usually has a built-in switch, which maintains the information necessary to determine how and where data is forwarded. (Somewhat confusingly, some smart home switch products also perform as hubs.) The devices may also include compute resources to perform some processing tasks before data is forwarded.
The owner usually controls operations through a smart home app, which allows them to monitor elements of the environment and to automate, schedule and control tasks. Some systems also include support for automation software such as IFTTT (If This Then That), which allows users to create chains of simple conditional statements that are triggered based on changes to other web services. The service might, for example, be set up to unlock doors, raise blinds and activate lights, heating/cooling and entertainment systems when the user was detected within a specified distance from the home (see: geofencing).
Many consumers start home automation with the purchase of a smart home hub and add devices to the automation system incrementally. Home automation hubs are also included as components in smart home kits that include all the hardware and software required to connect compatible devices and systems within the household.
See a demo of setting up and activating a SmartThings hub:
Continue Reading About smart home hub (home automation hub)
Dig Deeper on Internet of Things (IoT) Verticals