Get started
Bring yourself up to speed with our introductory content.
Personalization and customization in the smart home
In the entertainment world, companies first focused on personalization to provide the best customized content search and discovery experiences, as well as to provide a competitive differentiator. Personalization and customization are becoming increasingly important elements of success, and companies are using these features and technologies to define services, derive new revenues and build a loyal base of customers.
Personalization has the potential to positively impact monetization. Theoretically, consumers will purchase, rent and subscribe to more content when that content is recommended to them based on their own preferences and search history, as well as the preferences and history of friends or other people with similar interests and demographics.
Controlling the smart home
The growth of the smart home has been, in many ways, slowed due to the difficulty of producing compelling mass market value propositions for thousands of personal and unique use cases. There are use cases that appeal to a mass of people, such as home security devices and smart thermostats, but where one household might want security and not energy, another household might want energy but not GPS. The package of solutions that appeals to one household is likely to be different from the package of solutions that works for another household.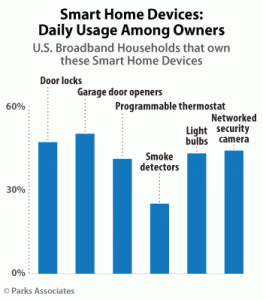 A wide range of devices are vying to become the go-to device in the home, including streaming media devices (e.g., Apple TV), personal assistants (e.g., Amazon Echo) and home robots (e.g., Robotbase's in-home assistant). TV makers are also interested in positioning their devices as the main control hub in the home.
The ultimate smart home controller will be multi-purpose with an open platform supportive of third-party apps and will be able to control multiple use cases. These elements are necessary to support the trend towards the personalization of almost every connected experience.
One example is the Amazon Echo, a personal assistant controlled by voice. The device provides weather information, sports scores, shopping and to-do lists, streams music and reads recipes. The device also supports other smart home devices, such as Phillips Hue lightbulbs and Belkin's WeMo product line. With a growing list of smart home partners, Amazon is developing the Echo into a smart home controller.
A shift in relationships
As devices are added to the home, CE makers are working to try to own the relationship with the consumer instead of working through service providers, who have long owned this relationship because they aggregate and bill for content and related services.
Traditional pay-TV providers aggregate local channels and offer bundled payments for voice, Internet, video and smart home services. Consumers generally believe that bundling provides lower costs for such services; cable companies and telcos reinforce that notion through their pricing structures. While device makers generally do not sell services, the Roku Account is a one-stop payment service that consumers can use to pay for content services provided by content partners that have elected to process transactions through Roku. Consumers can pay content providers through the Roku account for content subscriptions, rentals and purchases. One-stop pay on a streaming device simplifies the process, provides a better user experience and provides a sense of security, as consumers do not need to share their personal credit information with multiple companies. It is expected that similar conveniences will become available on personal assistance devices.
All IoT Agenda network contributors are responsible for the content and accuracy of their posts. Opinions are of the writers and do not necessarily convey the thoughts of IoT Agenda.