Definition
microcontroller
A microcontroller is a compact microcomputer designed to govern the operation of embedded systems in motor vehicles, robots, office machines, complex medical devices, mobile radio transceivers, vending machines, home appliances, and various other devices. A typical microcontroller includes a processor, memory, and peripherals.

Download this free guide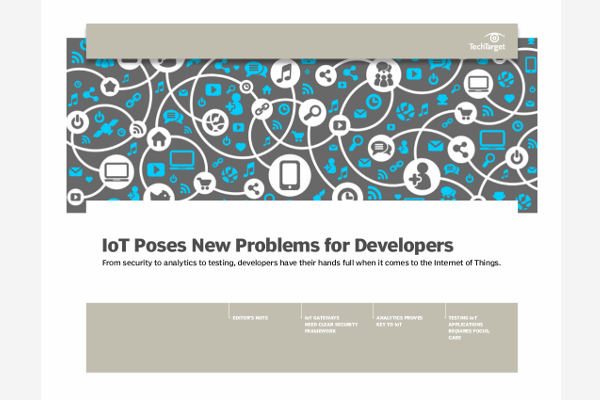 Download Now: The Developer's Guide to IoT
The Internet of Things (IoT) world may be exciting, but there are serious technical challenges that need to be addressed, especially by developers. In this handbook, learn how to meet the security, analytics, and testing requirements for IoT applications.
By submitting your personal information, you agree that TechTarget and its partners may contact you regarding relevant content, products and special offers.
You also agree that your personal information may be transferred and processed in the United States, and that you have read and agree to the Terms of Use and the Privacy Policy.
The simplest microcontrollers facilitate the operation of the electromechanical systems found in everyday convenience items. Originally, such use was confined to large machines such as furnaces and automobile engines to optimize efficiency and performance. In recent years, microcontrollers have found their way into common items such as ovens, refrigerators, toasters, clock radios, and lawn watering systems. Microcomputers are also common in office machines such as photocopiers, scanners, fax machines, and printers.
The most sophisticated microcontrollers perform critical functions in aircraft, spacecraft, ocean-going vessels, life-support systems, and robots of all kinds. Medical technology offers especially promising future roles. For example, a microcontroller might regulate the operation of an artificial heart, artificial kidney, or other artificial body organ. Microcomputers can also function with prosthetic devices (artificial limbs). A few medical-science futurists have suggested that mute patients might someday be able, in effect, to speak out loud by thinking of the words they want to utter, while a microcontroller governs the production of audio signals to drive an amplifier and loudspeaker.
Microcomputers enjoy immense popularity among electronics hobbyists and experimenters. Perhaps the most widely known and used of these devices belong to the PIC family, manufactured by Microchip Technology, Inc. of Chandler, Arizona. All devices in the PIC family come with a wide variety of development tools, are easy to find, remain relatively inexpensive, and have excellent documentation.
Continue reading about microcontrollers:
Introduction to microcontrollers
How to choose a microcontroller
HowStuffWorks explains microcontrollers.
Dig Deeper on Internet of Things (IoT) Network Infrastructure
PRO+
Content
Find more PRO+ content and other member only offers, here.