Definition
micro-electromechanical systems (MEMS)
Micro-electromechanical systems (MEMS) is a technology that combines computers with tiny mechanical devices such as sensors, valves, gears, mirrors, and actuators embedded in semiconductor chips. Paul Saffo of the Institute for the Future in Palo Alto, California, believes MEMS or what he calls analog computing will be "the foundational technology of the next decade." MEMS is also sometimes called smart matter.

MEMS are already used as accelerometers in automobile air-bags. They've replaced a less reliable device at lower cost and show promise of being able to inflate a bag not only on the basis of sensed deceleration but also on the basis of the size of the person they are protecting. Basically, a MEMS device contains micro-circuitry on a tiny silicon chip into which some mechanical device such as a mirror or a sensor has been manufactured. Potentially, such chips can be built in large quantities at low cost, making them cost-effective for many uses.

Download this free guide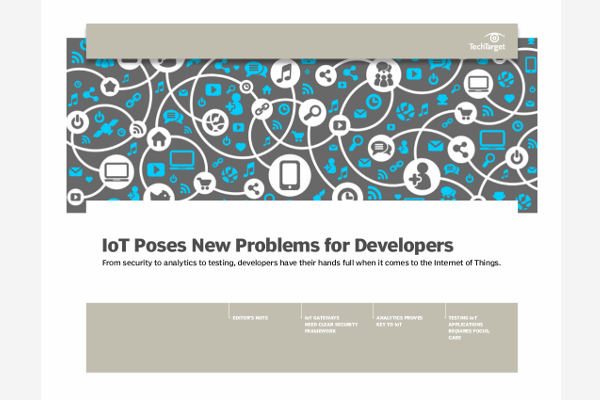 Download Now: The Developer's Guide to IoT
The Internet of Things (IoT) world may be exciting, but there are serious technical challenges that need to be addressed, especially by developers. In this handbook, learn how to meet the security, analytics, and testing requirements for IoT applications.
By submitting your personal information, you agree that TechTarget and its partners may contact you regarding relevant content, products and special offers.
You also agree that your personal information may be transferred and processed in the United States, and that you have read and agree to the Terms of Use and the Privacy Policy.

Among the presently available uses of MEMS or those under study are:
Global position system sensors that can be included with courier parcels for constant tracking and that can also sense parcel treatment en route
Sensors built into the fabric of an airplane wing so that it can sense and react to air flow by changing the wing surface resistance; effectively creating a myriad of tiny wing flaps
Optical switching devices that can switch light signals over different paths at 20-nanosecond switching speeds
Sensor-driven heating and cooling systems that dramatically improve energy savings
Building supports with imbedded sensors that can alter the flexibility properties of a material based on atmospheric stress sensing
Saffo distinguishes between sensor-effector type microcomputing (which he calls "MEMS") and micro-devices containing gears, mirrors, valves, and other parts (which he calls "micro-machines").
Much support for MEMS has come from Defense Advanced Research Projects Agency Research and Development Electronics Technology Office.
Dig Deeper on Internet of Things (IoT) Hardware
PRO+
Content
Find more PRO+ content and other member only offers, here.