Definition
RFID (radio frequency identification)
RFID (radio frequency identification) is a technology that incorporates the use of electromagnetic or electrostatic coupling in the radio frequency (RF) portion of the electromagnetic spectrum to uniquely identify an object, animal, or person. RFID is coming into increasing use in industry as an alternative to the bar code. The advantage of RFID is that it does not require direct contact or line-of-sight scanning. An RFID system consists of three components: an antenna and transceiver (often combined into one reader) and a transponder (the tag). The antenna uses radio frequency waves to transmit a signal that activates the transponder. When activated, the tag transmits data back to the antenna. The data is used to notify a programmable logic controller that an action should occur. The action could be as simple as raising an access gate or as complicated as interfacing with a database to carry out a monetary transaction. Low-frequency RFID systems (30 KHz to 500 KHz) have short transmission ranges (generally less than six feet). High-frequency RFID systems (850 MHz to 950 MHz and 2.4 GHz to 2.5 GHz) offer longer transmission ranges (more than 90 feet). In general, the higher the frequency, the more expensive the system.

Download this free guide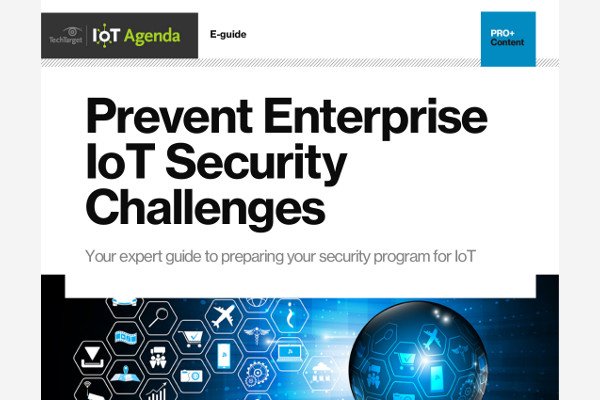 Download Our Guide and Overcome IoT Security Challenges
The IoT is imminent – and so are the security challenges it will inevitably bring. Get up to speed on IoT security basics and learn how to devise your own IoT security strategy in our new e-guide.
By submitting your personal information, you agree that TechTarget and its partners may contact you regarding relevant content, products and special offers.
You also agree that your personal information may be transferred and processed in the United States, and that you have read and agree to the Terms of Use and the Privacy Policy.
RFID is sometimes called dedicated short range communication (DSRC).
Continue Reading About RFID (radio frequency identification)
Dig Deeper on Internet of Things (IoT) Wireless