Fotolia
New IoT research provides best practices, advice to make IoT work
IoT research from Enterprise Management Associates provides advice to enterprises trying to make IoT successful. Download the free report.
Networks are the foundation of the internet of things, but few enterprise network teams have a well-established approach for successfully delivering network connectivity and services to an IoT strategy.
Enterprise Management Associates (EMA) believes IT organizations need to establish best practices for IoT, especially if enterprises are going to rely on the concept for the establishment of new business models and the creation of new products and services. Last year, EMA research found 87% of enterprise network professionals were already providing connectivity to IoT devices, which only added a sense of urgency to this issue.
With these dynamics in mind, EMA launched a survey-based IoT research study to investigate the strategies that enterprise network teams formulate for IoT connectivity and the challenges they encounter. More importantly, we used this IoT research to identify some early best practices for IoT strategies.
EMA's research report, "The Internet of Things and Enterprise Networks: Planning, Engineering, and Operational Strategies," is based on a survey of 100 North American network professionals who are actively involved in their company's IoT projects. EMA is pleased to make a summary of this report available free to TechTarget readers.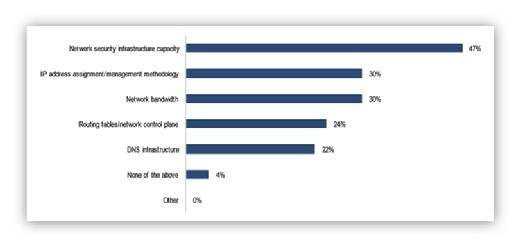 Laying the groundwork for an IoT strategy
This research summary offers network professionals guidance on how to plan, build and operate networks for IoT. It identifies some of the technologies that will be essential to you. It suggests which internal and external partners will be most critical to your success. It also warns you about the challenges you will encounter.
Our first recommendation, based on this research, is simple: Network pros need to take charge. Research participants were more successful with IoT when the network team played a leading role in planning, implementing and operating an IoT ecosystem. They were also more successful when they actively monitored and managed the "things" the enterprise connects to the network for IoT.
One of the biggest challenges networkers encounter with IoT is security. EMA found network teams are struggling to model IoT-specific security threats. They are also challenged by the fact that the power and computing constraints of IoT devices limit support-channel-based security techniques, such as Transport Layer Security. And the sheer scale of IoT projects is overwhelming network security infrastructure.
More than half of research participants told us that IoT had created or exacerbated blind spots in their network monitoring architecture. One of the top consequences of such blind spots was a security breach.
This research summary offers some suggestions on how you can improve overall IoT monitoring -- not just to reduce security risk, but also to ensure the health and performance of IoT services.
To download the free report, click here.
Dig Deeper on Internet of Things (IoT) Security Threats