sommai - Fotolia
Big talk, little action on the Internet of Things
Big-data analysis of Web chatter shows IoT hype reached the stratosphere last year. Now it's time to bring IoT back to earth and lay the groundwork.
We already have an Internet of Things of sorts, and most of the things connected to it are the information-sharing devices that people interact with -- personal computers, smartphones and the like.
And so, with 2014 receding in the rear-view mirror, we can run basic analytics on millions of data points sampled from the world's estimated three billion Internet users and measure the popularity of the concept, "Internet of Things."
According to Google Trends, search interest has quadrupled since the start of 2013 (see chart). The numbers are only relative -- Google says each one is a percentage of the highest point -- but it's not hard to estimate what that high point might be. Adwords, Google's online advertising program, reports the average number of monthly searches for "Internet of Things" in most 30-day periods last year was roughly triple that of 2013. Last month recorded 135,000 searches, compared to an already impressive 49,500 in December 2013. Searches for many, much older computing terms are lucky to reach the low thousands.
All those searches bring forth a wealth of richly illustrated pages from prospective IoT vendors, as well as articles from the mainstream, technical and business press that are highly conceptual and heavy on the gee-whiz.
The other day, a Google search returned 20.7 million hits. After adding in the offspring terms "Iot" and "the Internet of Everything," the hits exceeded 29 million. Our TechTarget sites alone have published more than 10,000 articles, conversations and definitions related to the Internet of Things.
Not to belabor the point, but 2014 was clearly the year that hype over the Internet of Things not only peaked, but outran reality by increasing lengths. Rarely in computing history has so much been said and so little done.
The research firm Gartner Inc. has long had a clever and insightful tool to describe these phenomena. Its 2014 Hype Cycle for Emerging Technologies had the Internet of Things sharing the very top of the "peak of inflated expectations," alongside natural-language question and answering. Moving to the next stage in the cycle is supposed to bring a slide into the "trough of disillusionment," but how can you be disillusioned about something that barely exists?
A trip to the eddy of hesitation or the whirlpool of confusion seems more likely.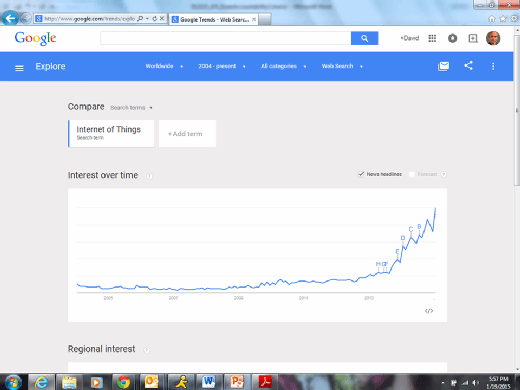 What's next for the Internet of Things?
What needs to happen in 2015 to make the IoT a reality? The current patchwork of networks needs filling in and vendors have to show prototypes, at the very least, if not customers who are ready to deploy.
The industrial sector could lead the way. Advanced manufacturing has long had networked factory automation and sensors, sometimes called machine-to-machine (M2M) systems. Radio-frequency identification (RFID) tags and other mobile sensors continue to spread through supply chains, linking production lines with warehouses, trucks and container ships all the way to retail shelves at the far end.
Although some of these supply-chain networks are connected over the Internet Protocol (IP), many -- especially those that work only inside warehouse and factory shop floors -- use other networking and data-acquisition standards such as SCADA. For any of these already connected things to become part of the wider Internet of Things, interfaces to IP-based infrastructure will have to be built, or older networks replaced with new IP networks.
Such challenges are the work of the Industrial Internet Consortium, which was founded by AT&T, Cisco, General Electric, IBM, and Intel and now has more than 120 members. By March it plans to publish a reference architecture that names the functional areas for an industrial IoT and suitable technologies and standards for delivering them. The organization is also developing test beds that vendors can use to ensure interoperability. GE has made impressive investments in the analytics and big-data software needed to process information already being collected from its massive installed base.
Other sectors still have plenty of work to do to turn last year's visions of smart cities and connected homes into practical realities. Meanwhile, the research firm IDC is advising companies to get ready by investing more in analytics and cloud computing -- the cloud is where IDC predicts most of the IoT data will be managed -- buttoning up their privacy and security policies, and rethinking the infrastructure and organizational strategies needed for this more connected world.
The Internet of Things remains a compelling idea. If 2015 is too early for action, it should at least be a time of serious planning.
Next Steps
Read about SAP and the Internet of Things
Learn what IDC says about the Internet of Things
See Dreamforce conference IoT predictions
Dig Deeper on Internet of Things (IoT) Analytics