Industrial IoT adoption rates high, but deployment maturity low
While IoT adoption rates in manufacturing, transportation, and oil and gas are on pace to reach 98% in the next year, many deployments are in early stages.
Industrial organizations have embraced IoT, that much is clear. But a new study found current deployments aren't...
Continue Reading This Article
Enjoy this article as well as all of our content, including E-Guides, news, tips and more.
very advanced yet -- though that will come in time, the organizations said.
Bsquare's 2017 Annual IIoT Maturity Study surveyed more than 300 senior-level employees with operational responsibilities from manufacturing, transportation, and oil and gas companies with annual revenues of more than $250 million.
Eighty-six percent of respondents said they have IIoT technologies in place, with an additional 12% planning to deploy IIoT within the next year. And of the 86% of industrial organizations that have completed IoT adoption, 91% said the IIoT deployments were important to business operations.
However, while IoT is catching on, most industrial organizations are still in the early stages.
The state of IoT adoption in industrial organizations
The study outlined five levels of IoT adoption: device connectivity and data forwarding, real-time monitoring, data analytics, automation and on-board intelligence.
Seventy-eight percent of survey respondents, with transportation leading the pack, self-identified their companies at the first stage, transmitting sensor data to the cloud for analytics, and 56%, again with transportation in the lead, reached the second stage, monitoring sensor data in real time for visualization.
Dave McCarthy, senior director of products at Bsquare, said he had predicted the gap between the first two stages would be smaller; no surprise there. What really surprised him, however, was the small gap between the second stage and third: Forty-eight percent of respondents said they were using data analytics for insight, predictions and optimization with applied analytics such as machine learning or artificial intelligence.
"What it indicates to me," McCarthy said, "Is that people who have gone down the visualization route have figured out, to some degree, some use of the data they're collecting, and they know that analytics is going to play a part in helping them understand more closely what that data is going to mean for them."
McCarthy wasn't surprised to see the drop in the fourth and fifth stages: Twenty-eight percent said they were automating actions across internal systems with their IoT deployments, and only 7% had reached the edge analytics level.
"Just as expected, there's a large drop-off from people doing analytics to people who are automating the results," McCarthy said. "And in my mind, the highest amount of ROI comes when you can get to those levels."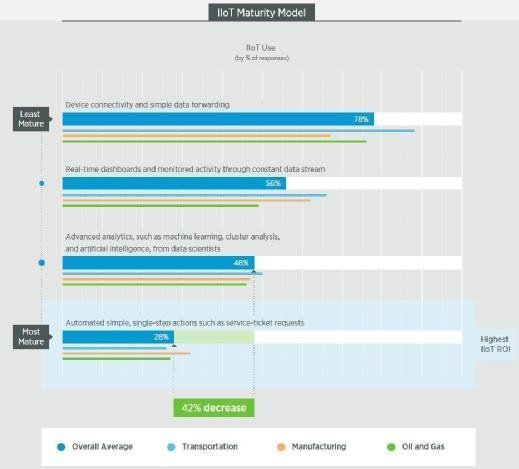 IIoT adoption and satisfaction
Not reaching the highest levels of ROI isn't deterring IoT adoption, though: Seventy-three percent of respondents said they expect to increase IIoT deployments over the next year, with higher IoT adoption rates in transportation and manufacturing (85% and 78%, respectively) than oil and gas (56%). Additionally, 35% of all industrial organizations believe they will reach the automation stage, and 29% are aiming to reach the real-time monitoring stage in the same time period.
Nor will ROI always be calculated the same by analysts and companies as it is by the organizations using IIoT technologies, McCarthy noted. Respondents cited machine health- (90%) and logistics- (67%) related goals as top IoT adoption drivers, while lowering operating costs came in at 24%.
"The number one motivation that all operations-oriented companies have is improving and increasing uptime of their equipment," McCarthy said. "I hear this over and over again. They know they eventually have to do maintenance on equipment and take things down for repairs, but it is so much more manageable when they can get ahead of that and plan for it."
"The reality for these types of businesses is that if there are plant shutdowns or line shutdowns that last for extended periods of time, they often don't have the ability to make up that loss in production," McCarthy added. "You can't just run another shift on a Saturday to pick up the slack. Oftentimes the value of the product they're producing far outweighs the cost of operating the equipment. What this indicates to me is, 'I'll spend more if that means I can keep that line running because of the production value.'"
With or without traditional ROI, the majority of survey respondents said they were happy with the results they're seeing: Eighty-four percent said their products and services were extremely or very effective, with the transportation sector seeing a 96% satisfaction rate.
Additionally, 99% of oil and gas, 98% of transportation and 90% of manufacturing organizations said IIoT would have a significant impact on their industry at a global level. Perhaps those predictions of IIoT investments reaching $60 trillion in the next 15 years and the number of internet-connected IIoT devices exceeding 50 billion by 2020 will become a reality.