itestro - Fotolia
Hitachi Vantara, commercial Lumada IoT platform unveiled
Hitachi puts its name in the digital transformation game with the creation of Hitachi Vantara and the commercial release of its Lumada IoT platform.
Hitachi Ltd. used its first annual customer event, Hitachi Next, to announce the creation of its new digital company,...
Continue Reading This Article
Enjoy this article as well as all of our content, including E-Guides, news, tips and more.
as well as the first commercial release of its Lumada IoT platform.
The latest addition to the Hitachi portfolio, Hitachi Vantara, specifically targets organizations looking to capitalize on the sweeping trend of converging information technology and operational technology. The new venture puts the company in direct competition with Dell EMC, HPE and others; but with more than 100 years of experience in the OT sector (107, to be exact) and 58 years of experience in the IT space, Ravi Chalaka, vice president of global IoT and Lumada marketing at Hitachi, said Hitachi Vantara is well prepared, calling this step "a transformation that will help take us through the next 100 years."
A combination of Hitachi Data Systems, Hitachi Insight Group and Pentaho, Hitachi Vantara creates a $4 billion company with more than 7,000 employees that wants to supply the analytics, infrastructure, software and services needed for organizations to embrace digital transformation.
"Data is the currency in the new world," Chalaka said. "And that's being driven by things like artificial intelligence and IoT for a next-generation business transformation."
The data-driven technologies from Hitachi Vantara aim to offer a better customer experience, the ability for customers to better identify and address new revenue streams all while lowering the cost of doing business, Chalaka said.
Hitachi Vantara, being led by president and COO Brian Householder, already boasts a customer base of more than 7,000.
From the stage, Hitachi Ltd. President and CEO Toshiaki Higashihara said, "The mission of this company is to help customers discover the true potential of data. The new company is a unique combination of data management, analytics and industry expertise into one global company that supports transformation efforts."
Hitachi Lumada v2.0
First announced in May 2016, the Hitachi Lumada IoT platform was originally created as a platform to help the company develop and deploy IoT technologies. At Hitachi Next, Hitachi Vantara formally released its first commercial offering with the release of Lumada version 2.0, now with updated artificial intelligence, machine learning and analytics capabilities.
But in a world full of IoT platforms, what sets Lumada apart?
Rob Tiffany, CTO at Hitachi, said the technology's portability, "asset avatars" and "solution cores" were critical to the platform's differentiation, as well as the platform's 100+ easy-to-use "connectors."
When it comes to portability, Tiffany said, the entire Hitachi stack and Lumada IoT platform can be run on premises (with Hitachi hardware or the customers), in a hybrid deployment or in a complete cloud implementation.
"It's important to meet our customers where they are," Tiffany noted. "And this is never more important than the industrial space." He said he had spoken with a number of large manufacturers that want to keep their data in the factory, not only for data sovereignty and safety, but also practicality. "You'll talk to some manufacturers whose equipment is putting off terabytes of data per day or sometimes per hour. So for them, even if they're in the cloud from an IT perspective, it might not be practical or feasible for them to be shoveling that much streaming data in the cloud."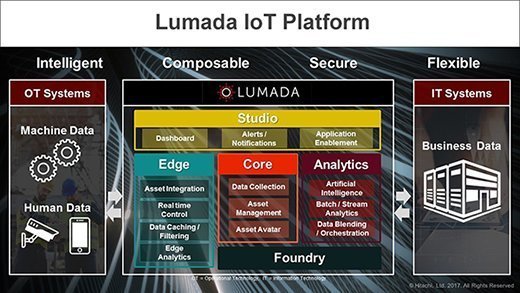 Asset avatars, Hitachi's version of a digital twin, serve as digital blueprints of physical assets. But they aren't just simple proxies with JSON files that show, for example, a car has four tires and an engine, Tiffany said. Rather, they're ready for highly complex machines with multifaceted subsystems. So that car example will have multiple asset avatar instances (for example, for the transmission, engine and other systems) which tie into the larger car model, with all of them pulled together and communicating in a parent-child relationship.
Each asset avatar, or child, then reports back to an avatar type, the overarching parents of like-asset avatars. Information gleaned from each asset avatar instance bubbles up to the avatar type, where it can be shared with other similar asset avatars. For example, Hitachi makes bullet trains; there is an avatar type for each class of bullet train which collects the information from its children -- metadata and information from tens of thousands of sensors and actuators -- and shares with other similar asset avatars and asset types so all bullet trains will have said learnings.
"Being able to have that digital brain that keeps getting smarter and smarter over time helps us make our equipment and the equipment of our competitors that our customers are using smarter over time," Tiffany said.
Solution cores were another differentiator, Tiffany added. With specific vertical technology, solution cores are "repeatable IoT building blocks that include software, methodologies and data," helping customers across a variety of industries and use cases get better value more quickly once they've deployed an IoT platform. Available solution cores include IIoT, energy IoT and smart cities.
"We know our customers don't have an army of data scientists or domain experts on types of machines, so we bring that know-how to get them to value more quickly," Tiffany said, adding that more solution cores will be developed and released over time.
Finally, Tiffany said that a key differentiator of the Lumada IoT platform was that it doesn't differentiate -- meaning it can ingest and work with machine data, human-entered data, data coming from customers' existing systems (ERP or CRM, for instance), as well as web services and clouds -- from a variety of competitors. With more than 100 connectors, interoperability with other systems helps Hitachi's customers pull in more data and achieve deeper insight and analytics with more meaning and context.
Dig Deeper on End-to-End IoT Development Environment