James Thew - Fotolia
LiveWorx 2017: The physical and digital convergence era is here
PTC is ready to help customers ride the physical and digital convergence wave, as witnessed at LiveWorx 2017.
Lasers, synchronized robots and electronica complemented by audience members outfitted with blinking LED bracelets...
Continue Reading This Article
Enjoy this article as well as all of our content, including E-Guides, news, tips and more.
isn't the opening to any ordinary conference, but it was apropos for the LiveWorx 2017 conference in Boston.
After dazzling the LiveWorx audience with an array of lights, PTC CEO Jim Heppelmann attempted to do some dazzling of his own, building the case that the meshing of the physical and digital worlds creates a new frontier of business possibilities, one that he feels PTC is poised to dominate.
"I watch in amazement as the world's largest digital companies like Google and Microsoft move to create physical products, while, at the same time, the world's largest physical companies like GE and ABB are reinventing themselves as digital companies," Heppelmann said. "Existing businesses are being disrupted, and surprising new markets are being created by the innovative possibilities that are being unleashed."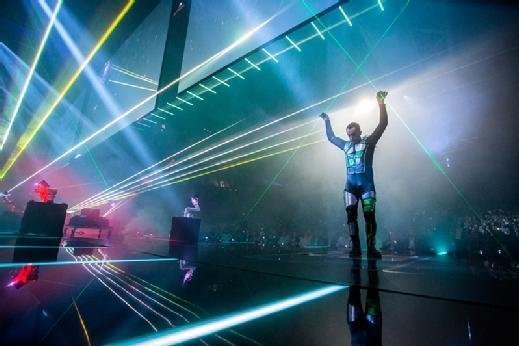 PTC knows a thing or two about new markets and innovations. The company started in 3D computer-aided design technology -- its Pro/ENGINEER software that shipped nearly 30 years ago was one of the first to offer digital mockups. It also has a strong foothold in product lifecycle management, with its Windchill software, and application lifecycle management, with its Integrity software. Eventually, Pro/ENGINEER morphed into the current-day Creo, and the company was working on its own IoT platform before acquiring ThingWorx in 2013. PTC made other strategic acquisitions along the way, adding Axeda for cloud, Kepware for automation, ColdLight for machine learning and predictive analytics, and Vuforia for augmented and virtual reality, among others.
This complex and diverse portfolio ushers PTC customers through the physical and digital convergence wave, all the way from product creation to final product -- and beyond.
"Technologies like 3D printing, smart manufacturing, IoT, analytics and AR/VR (augmented reality/virtual reality) open up so many new possibilities," Heppelmann said. "Whether you work in engineering or in the digital organization or in sales and marketing or operations, there's a lot happening. It's a new age of innovation where the industrial revolution is colliding head-on with the digital revolution. The gains of each are being reinforced and they're amplifying each other."
Physical and digital convergence in action at LiveWorx 2017
To showcase the physical and digital colliding, Heppelmann walked the LiveWorx audience through PTC customer Bosch Rexroth using its products all the way from the engineering phase through sales and marketing.
On display, the Bosch Rexroth CytroPac, a hydraulic system used to power industrial machines, contains everything you'd expect to see -- a motor, tank, cooling system and control system. However, unlike previous products, the connected CytroPac helps Bosch Rexroth engineers not only monitor the temperature and pressure of systems in the field, but also, more importantly, to identify usage patterns and areas of improvement. In doing so, engineers detected an outlying number of systems operating near their temperature limit. As these parameters were outside the normal use cases of CytroPac's target users, the engineers identified a fixable problem as well as an opportunity to potentially create a product for a new customer segment.
It's a new age of innovation where the industrial revolution is colliding head-on with the digital revolution. The gains of each are being reinforced and they're amplifying each other.

Jim HeppelmannCEO, PTC
Using machine learning and simulation technology from two applications, an engineer created a Digital twin of the CytroPac and then tweaked the design in an attempt to lower the temperature. He discovered a 30% increase in cooling efficiency was needed -- without changing the system packaging. Using the digital twin and then 3D printing, the engineer demonstrated how excess material could be removed from the design while maintaining its structural integrity. In testing the new design using augmented reality, the engineer discovered the new design could achieve a 43% improved cooling efficiency with a design that weighed 66% less than its previous iteration.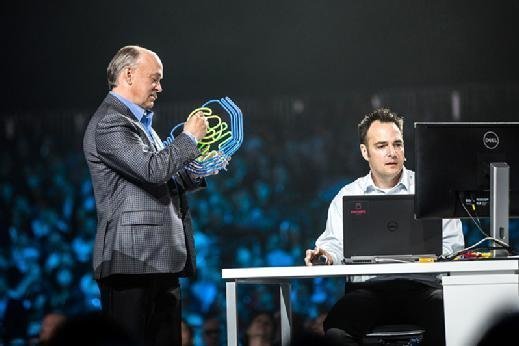 On the digital side of Bosch Rexroth, a team member demonstrated how she used ThingWorx to integrate sales data from Salesforce and the engineering team's usage data to create a sales recommendation engine. With this app, the sales team could optimize processes and identify upsell and cross-sell opportunities, as well as ultimately improve customer service and satisfaction. Using ThingWorx, Bosch Rexroth was able to create the application 10 times faster than if it had built from the ground up.
Another member of the digital team on the LiveWorx stage demonstrated building a virtual brochure to help sales show potential customers products anytime, anywhere using virtual reality/augmented reality and a HoloLens. He was also working on eliminating service manuals with AR/VR and demonstrated a step-by-step filter replacement procedure, thereby "replacing many pages of documentation with 3D software -- the universal language."
On the sales and marketing side, salespeople could use the engineer's data to monitor how CytroPac systems of existing customers in their sales territory were operating, mixing up the traditional notion of customer relationship management (CRM), thus, giving them proactive sales capabilities.
"Customers don't make good sensors," Heppelmann said, noting companies usually only hear from customers when something is wrong. "And then it's too late to be proactive; you're in firefighting mode." By using new CRM models and the custom-designed sales recommendation engine, salespeople could monitor products, determine customer satisfaction based on performance, and identify opportunities for upselling or offering better product recommendations to their customers.
From here, the process could continue; the phenomena of physical and digital convergence on an endless loop. Engineers would identify new issues or areas of improvements, digital designers could improve processes and make new apps, and sales and marketing could boost profits and productivity. Monitoring leads to design, new products lead to new sales and new applications are monitored in the field. "Everything will come full circle," Heppelmann said.