Fotolia
Tech accelerator proves IoT projects in SMBs work
A tour of three pilot sites across the south shore of Massachusetts offers a number of success stories for IoT projects in SMBs.
Nestled on the cobblestone streets of the historic whaling city of New Bedford, Mass., is a classic brick building where anything but conventional, "classic" work is completed.
INEX Advisors' IoT Impact LABS, which calls itself "a field-pilot-based IoT accelerator," is home to a number of jack-of-all-trade workers who are designing, coding, installing and monitoring IoT projects addressing everything from ports, vineyards and nurseries to watersheds and slaughterhouses in the surrounding communities.
"IoT has a lot of buzz right now," said Jason Shepherd, director of IoT strategy and partnerships at Dell, which hosted a tour of pilot IoT projects with INEX Advisors, "but it's really about solving problems."
Chris Rezendes, founder and managing director at IoT Impact LABS, added that IoT was also about sustainability, efficiency and creating jobs rather than taking them away.
Plenty of cities across the U.S. such as Chicago and San Diego have emerged as smart city hubs, so how is a little-known city like New Bedford making its mark on the map?
"The question is how to do this the right way without all the resources large cities have," Rezendes said. IoT Impact LABS, along with Dell and its other sponsors, has already helped more than 200 SMBs -- most if not all of them not technology focused -- understand the benefits of the internet of things and pilot-unique IoT projects.
Port of New Bedford
The port city of New Bedford -- the number one dollar-value fishing port in the United States at $329 million a year, largely due to its sea scallop production -- has multiple opportunities for IoT projects.
Rezendes called IoT technology "a new way to instrument the ocean," and said each boat and vessel could be its own data center. Sensors in the port outfit not only boats, but also the Palmer Island Lighthouse, which Edward Anthes-Washburn, port director and executive director for New Bedford's Harbor Development Commission, called a "Herman Melville-era lighthouse." Fixed with solar panels, sensors and an IoT gateway, the old lighthouse has new equipment to increase port security data.
The port also has sensors to monitor traffic, tides and water conditions.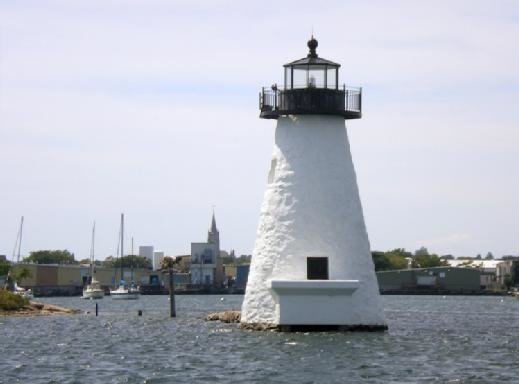 Salt Creek Vineyard
With 20 acres containing 12,000 vines, 110 miles of wire and 17 miles of trellis, the 37-year-old Salt Creek Vineyard in South Dartmouth, Mass., grows seven different varieties of grapes. Its IoT pilot project involved 12 sensors, IoT gateways and solar panels with enough battery backup to survive three cloudy days. The vineyard measures humidity, sunlight exposure, sugar and moisture content, and wind speed to monitor its grapes' growing conditions.
Skott Rebello, the vineyard's production manager, explained that adding sensors to the vineyard's water tanks has already paid off. Applying the wrong mix of water and chemicals can burn the foliage and cause grapes to grow unevenly. Rebello always tested the water with litmus strips, but it turns out some faulty, old strips weren't giving proper readings. After installing the sensors earlier this year, Rebello was warned of the incorrect ratio, which prevented him from potentially ruining two-thirds of the year's harvest.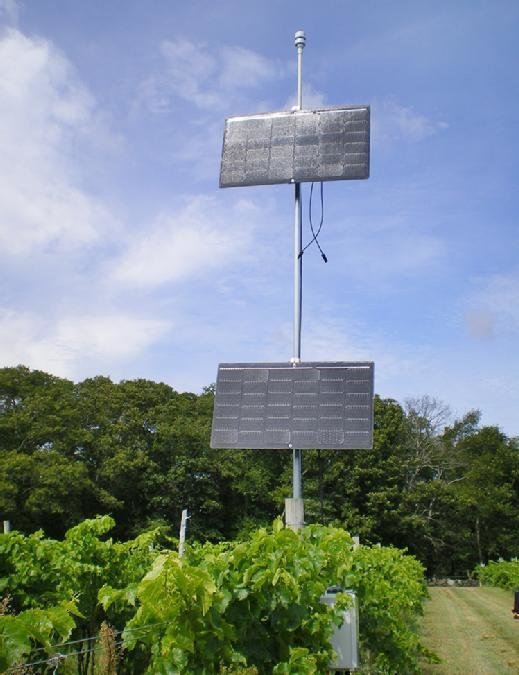 Quansett Nurseries
Quansett Nurseries of South Dartmouth, Mass., is a wholesaler that over the course of the season grows up to 250 varieties of annuals, perennials, crops and herbs across its 15 acres of land.
Its original IoT pilot included adding sensors to each of the property's two wells to measure their water levels, something owner Fred Dabney said was done in the past by the seat of his pants. Now he is able to know when one well's resources are being exhausted too quickly, when to switch watering holes and how quickly water is replenished.
Sensors and an IoT gateway also outfit the nurseries' greenhouses to measure light, moisture and heat levels. There are 10 sensor zones in each greenhouse, allowing Dabney and crew to fine-tune crop planting and rotation to get them to produce more quickly.
Sensors were recently added to the nurseries' hoop houses. However, unlike the nurseries' greenhouses, the primitive hoop house structures must be adjusted manually, and there is little that can be done to adjust temperature or humidity. So while the data can be collected, Dabney said, he isn't quite sure what he can do with it without spending a lot of money on new equipment.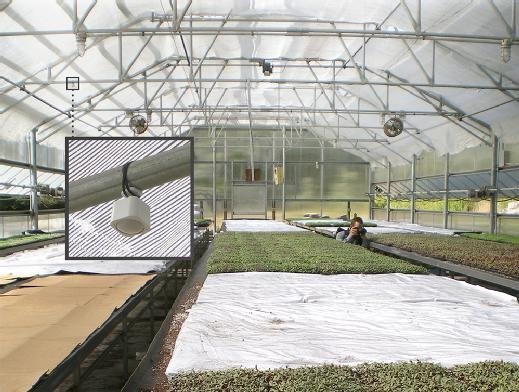 Reaping the rewards of IoT
Across all IoT pilot locations, there were mentions of getting their neighboring SMBs on board and sharing in the power of IoT, be it sharing weather data, sea water quality or levels of ground water.
"If we can all share a little bit of data, we can all get more intelligence," Rezendes said.
Craig Edwards, INEX's field ops and security engineer, noted that when creating IoT projects it is critical to make sure it worked for the host and the end user, otherwise there would be no reward. While a learning curve was involved, all three pilot IoT projects were proving beneficial so far.
Dig Deeper on Internet of Things (IoT) Verticals