Konstantin Sutyagin - Fotolia
Hitachi Insight Group creates Copenhagen City Data Exchange
Hitachi Insight Group's City Data Exchange pilot in Copenhagen aims to help advance the city's smart city initiative, but the program may have a few kinks to work out.
Back in April, Hitachi Ltd. gathered key elements of its IoT portfolio under the Hitachi Insight Group banner. Since then, one area where it's been particularly engaged is in offering services to smart city initiatives. Last week, members of its management team shared more about what they've got in the pipeline.
Since May 18, Hitachi Insight Group has been live with a pilot project undertaken with the city of Copenhagen, Denmark, and the Copenhagen Capital Region, a project to which Hitachi provided two-thirds of the funds to get things started -- public funds amounted to $1.3 million. The idea behind the City Data Exchange is to push beyond the open-data portals that are increasingly becoming a service offered by city governments. This broader conception of data sharing aims to create an infrastructure where companies and other institutions can sell subscriptions to smart city data.
The City Data Exchange project began as a project to develop a strategy for facilitating Copenhagen's eventual goals to use a smart city approach to become more efficient -- carbon neutral by 2020, for example -- and to create new business opportunities. "They [Copenhagen] had an open data program that they'd been using for a couple of years," said Rob Farris, vice president of global solutions and innovation team at Hitachi Insight Group. "They were fine with it, and it was allowing them to publish data, but they didn't really think it was helping them toward some of their major goals."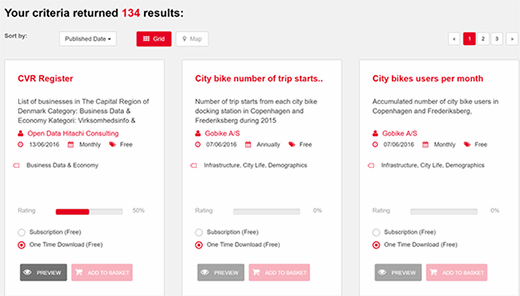 Enter the private sector
From this came the realization that the private sector would need to get involved, and it would need incentives to share and leverage the data it produces as part of its business operations. Thus, the City Data Exchange allows private data source providers to charge for subscriptions to their data streams. While Farris said Hitachi will charge future cities a startup fee, he noted that the city will be free of further financial obligations once the service is running. On an ongoing basis, the site will be run from transaction fees charged by Hitachi as subscriptions are sold and data is accessed.
While she said she generally sees the project as a positive development, independent analyst Jessica Groopman, who has covered IoT in various capacities for several years, thinks the business model may have a few kinks to work out. "The decision to place revenue-generating models around this data is an interesting one, especially so early in the game, and one I would argue goes against the vision for a smart city." Groopman said involving payments early may squash discovery of killer apps, "especially if that ecosystem shrinks to only those with deep pockets. It makes sense that the city would be looking for a way to recoup some of its costs from the implementation, but this is a short-term bet."
On the flip side, there's the question of whether private organizations will be willing to share -- even for a profit -- data they've developed internally as part of their business process. Justin Bean, Hitachi Insight Group's director of smart city solutions marketing, said there may not be a lot of data subscriptions up and running on the site yet, but there's a great deal of interest. "Just to get a sense of the magnitude," he said, "At the last event we were at, there were several hundred companies in Copenhagen that we were actively talking to and working with."
Mashup privacy invasions
Companies, Bean said, are assessing the sorts of data they might share and what they might charge for it. They are also tackling the thorny questions this kind of project raises around privacy.
According to Hitachi's Farris, the data that transits through the exchange will be exclusively data that has been stripped of personally identifiable information. That said, the data may be viewable in a relatively granular way -- perhaps not at the level of individual transactions, but down to a level equivalent to "Zip+4" postal code segments in the U.S.
"From the standpoint of consumer protections," Groopman observed, "Open data platforms can have unintended consequences. The platform claims to anonymize data, which is critical, but there are many shades of gray when it comes to data de- or pseudo-identification. Just because specific activities are disassociated with individuals doesn't mean those individuals are free from impact."
Hitachi is currently in conversations with several other cities worldwide. It reported these cities are distributed on three continents, though the names of cities considering the move have not yet been released. Bean said it has a lead in developing this sort of project and should be able to move quickly.
Groopman took a more sober view: "Uptake remains to be seen." But whatever the eventual size of these sorts of city-centered exchanges, she said, "what's critical in these early phases is laying the groundwork in core areas, like consumer protections, privacy, data ownership, citizen involvement, regulatory oversight and looking to other smart city implementations, such as Barcelona and Chicago, for what's worked, what hasn't and why or why not."
Dig Deeper on Internet of Things (IoT) Verticals