Sergey Nivens - Fotolia
News
Stay informed about the latest enterprise technology news and product updates.
IoT World reveals the Wild West of IoT standards
While many industry insiders are still promoting interoperability among IoT standards, the reality is that the market is still fragmented.
SAN FRANCISCO -- While enterprises try to adopt the Internet of Things, a standards war has emerged that threatens to fragment the industry and hinder consumer adoption of the technology.
The Internet of Things (IoT) is widely considered one of the important next technology frontiers, in which devices can transmit consumer and product data via the Internet. Cars, refrigerators and other products outfitted with IoT-connected devices enable companies to automate product service or to get important data about how products are being used for cross-selling opportunities and product innovation. And consumers, of course, can use IoT-connected devices to gather data on themselves, such as their heart rate, steps walked and so on with a wristband or health watch.
But these devices are governed by different standards, which have spawned a fragmented marketplace. Today a home monitoring system may use one set of standards, whereas a health monitoring wristband or a Beacon located in a retail store will use a different set of standards. Nor have vendors created universal applications for these various devices, so combining data and creating a universal consumer experience is still off in the distance.
"Consumers have a poor service experience," said Melissa Simpler, marketing board member of the AllSeen Alliance, at a panel on IoT standards at the IoT World conference in San Francisco May 12-13, "You have your lighting app for Philips Hue and August app for Smart Lock, and customers don't want multiple apps for multiple things. Nor do they want a hub for each thing we're trying to control," she said.
The lack of standards also stirs up serious concerns about how these devices could compromise consumer data privacy and security.
"Understanding privacy and security is paramount to this marketplace," Simpler said. "If the industry doesn't get it right, it will come to a halt." AllSeen has developed AllJoyn code with open standards for IoT devices.
Geoff Mulligan, president of the IPSO Alliance, said that without greater "harmonization" between the various prevailing standards, the industry could fall prey to the fragmentation of the videotape market, which ultimately hindered that industry. "We don't need a beta versus VHS war for the next 10 years," Mulligan said.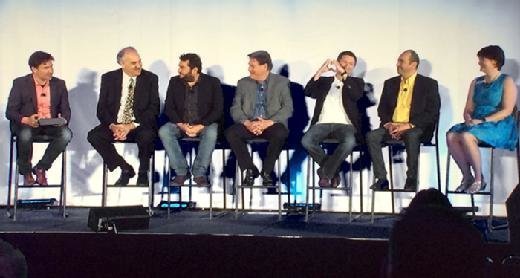 The need for harmonization
There have been some harmonization efforts. The the Thread Group are collaborating to enable the ZigBee Cluster Library to run over Thread networks. By working together, ZigBee and Thread can jointly provide an interoperable solution to help streamline product development and ultimately improve the consumer's experience in the connected home. Thread has also joined forces with the IPSO Alliance and with AllSeen.
We're poised for great collaboration, but I don't think we're there today.

Melissa Simplermarketing board member, AllSeen Alliance
But sometimes these groups are seen as overlapping and working at cross-purposes. The Open Interconnect Consortium (OIC), launched by vendors such as Broadcom, Dell, Intel, Samsung and Wind River, aims to provide a common framework to wirelessly connect and manage IoT devices and their data. But the AllSeen Alliance, which includes Microsoft and industry players from consumer electronics, home appliance makers, auto manufacturers, and more, is also trying to forge interoperability among devices through its AllJoyn open source code.
With multiple groups promoting various standards, there has been question about whether all groups are truly cooperating. "I don't actually think we're all working together," Simpler said. "We're poised for great collaboration, but I don't think we're there today."
Part of the problem has been that standards are addressing different needs for different industries -- where the requirements for home networking and oil drums and health devices vary considerably -- and that these standards may address the application, the networking or the hardware layer. Some panelists said that the reality is that various standards will need to be accepted and prevail in their respective domains.
"These standards, said Ramzi Al-Harayeri, chairman of OIC, "Bluetooth, Zigbee, Wi-Fi --they are here for a reason. They are here because they work best in that market. And they are here to stay. Heterogeneous technologies will continue to exist." In essence, Al-Harayeri promoted the multiplicity.
Richard Soley, executive director of the Industrial Internet Consortium, embraced that diversity of standards, saying that it fends off monopoly and mediocrity. "Competition is good," Soley said. "Competition drives quality."
Given the 30% year-over-year growth of IoT-connected devices, the reality may be a fragmented market -- at least for a while so that the market can mature and attain high levels of security.
"The realization is that you can't do it all," said Richard Brennan, Marcom chair at oneM2M. "You have to join with the rest of this broader ecosystem to put this together."
Next Steps
IoT could help cities with the ills that plague them
Lack of standards still a hurdle for IoT
ROI from wearables and IoT still in question
Dig Deeper on Internet of Things (IoT) Standards and Certifications