peshkova - Fotolia
When users and IoT technology share a WLAN, resiliency is vital
The Las Vegas Sands' wireless LAN carries traffic from thousands of guests and conference attendees, plus a growing number smart devices using IoT technology.
The Las Vegas Sands has two primary types of customers at its hotels and expo center. There are the families who don't want a vacation to disrupt all the alerts and messages they'd normally get on their connected smartwatches, fitness devices, smartphones, tablets and laptops. And then there are the groups that bring in large events requiring wireless connectivity for hundreds or even thousands of devices.
But in addition to serving its customers' personal connectivity needs, the Sands' network also facilitates many of its internal operations using IoT technology, allowing staff to remotely adjust the temperature of hotel rooms and large exhibit halls, lock doors, change lighting, manage freezer temperatures and monitor pool chemical levels.
The Sands' network is equipped to theoretically handle up to 800,000 devices, and it has carried connectivity for as many as 34,000 at one time, says Justin Herrman, executive director of information technology at the Sands.
The company tapped Xirrus for its networking needs, working with the vendor to build robust wired and wireless networks, backed up by quality of service to ensure performance. Traffic from IoT devices rides over the same infrastructure as standard wireless traffic, which means that in order to accommodate an increasing number of devices and growing data demands, Herrman needed to design his Wi-Fi network for high density and ensure his LAN and WAN had sufficient bandwidth.
"The events are extremely high maintenance. One event can bring millions [of people] in two days," Herrman says. "We can't afford to lose [connectivity]."
The Sands' W-Fi network includes 270 of Xirrus' high-density arrays, and each of those units can provide connectivity for thousands of wireless devices at a time. The arrays flow back to a 10 Gbps wired LAN connection, and eventually out to a 6 Gbps WAN link, which consists of five 1 Gbps Metro Ethernet connections provided by multiple carriers for redundancy. The Sands also uses load-balancing devices to share all six lines simultaneously and prevent downtime.
"The benefit of installing 270 devices versus 1,200 is that it was only a fraction of the install, and the ongoing support will always be less. It's been outstanding," Herrman says. "You manage them all independently in the cloud, and you can manage them simultaneously."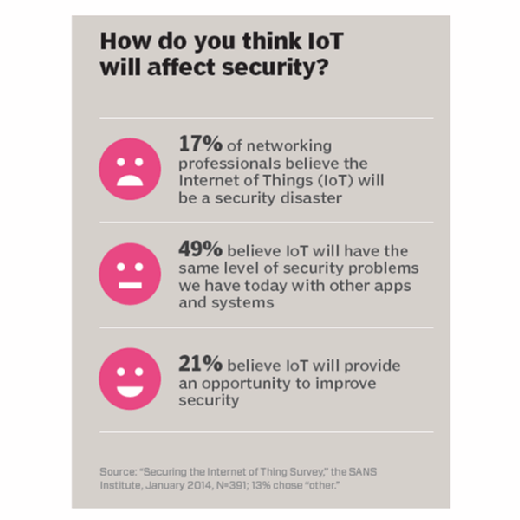 The Sands tested a project recently that used guests' flight and auto registration information to automatically send a welcome message when they arrived at the airport or by car and were within city limits. The bellman would know when to expect the customer, and a key to the hotel room door was provided on a mobile device with an app, so the guest didn't have to go to the front desk to check in.
"When we ran the demo, quite a few people opted into it," Herrman says. "We're looking to get the capital and make this a reality next year. There are huge gears moving for IoT accommodations in the near future."
The hotel is hoping to take IoT a step further and perhaps get to the point of recognizing a customer's preferences, making sure a special drink and certain cigar a client enjoyed at a sister property in Asia is also available in the customer's Las Vegas room upon arrival.
"People want the future now. When they walk onto a property, they want the property to recognize them," Herrman says. "And we're trying to get there. We want the property to breathe with them at a micro level."
Dig Deeper on Internet of Things (IoT) Network Infrastructure