sommai - Fotolia
What's the best network for transporting and collecting IoT data?
The city of San Jose experimented with several types of network connectivity for transporting IoT data, which it's analyzing to help plan for future population growth.
The city of San Jose is expecting its population to balloon from its current 1 million residents to 1.4 million -- a 40% increase -- by 2040. Last summer, the northern California city partnered with Intel to run a six-month pilot program to install a network of sensors around the city to collect data on everything from traffic flow to air pollution.
The city placed the sensors in strategic spots throughout its 180 square miles, including an area in south San Jose where two freeways intersect and a large mall and high school stand; a downtown site near a light rail, commuter train and bus system; an area in east San Jose near a small municipal airport and mall; and in the northern end of the city near some wetlands.
The city intends to use the data it collects to make decisions about planning mass transit systems and roadways -- as well as commercial and residential buildings -- to accommodate the expected population growth, says Vijay Sammeta, San Jose's CIO.
"We didn't walk into this with any preconceived notions," Sammeta says. "We're letting these data sets tell a story about what's going on in our community. The ultimate goal is to take transit data, air quality data, how full parking lots are and any other data we collect to understand the data. From there, the city will decide what conversations we can have about urban design and traffic patterns, and then we can take some action."
The infrastructure requires two critical components: power for the sensor and the ability to get the data from the sensor to the cloud. The city connected the sensors to streetlights, and depending on which streetlights they used, some used a wired connection, some used the city's wireless LAN and others used cellular connectivity. The city pulled some sensors down to switch them around as they got a feel for which type of connectivity worked best.
Pulling cable took longer than tapping into Wi-Fi or using cellular service, so the city found the wireless and cellular connections easier to deploy.
"As long as we're doing this project, we wanted to learn a little bit about what would be successful," says Sammeta. "There are a variety of different models to deploy, and we wanted to test all three."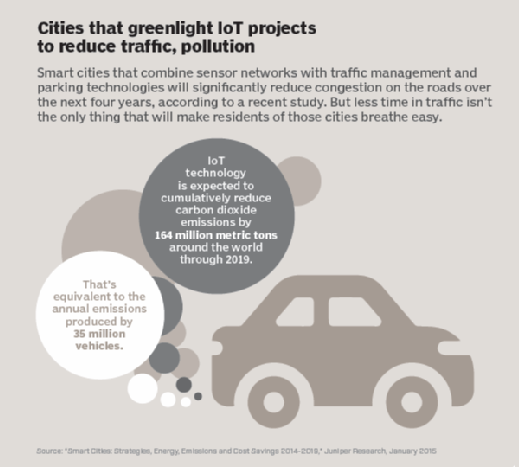 On its wireless access points (APs) from Ruckus Wireless, the city deployed a separate wireless network specifically for the IoT data, allowing San Jose's IT team to have tight control over security. Intel houses a Hadoop cluster in the cloud that all the data flows into, and all the micro-transactions get aggregated there for data analysis.
"It's important for cities to look at this type of technology so they can continue to provide meaningful data to elected officials to make more informed decisions," Sammeta says. "It involves looking at IoT opportunities that will shape those decisions."