vasabii - Fotolia
Real world visible light communication applications
Visible light communication technology is helping bring the internet of things to retailers, office buildings and the classroom. Learn how.
To transform the shopping experience for its customers, French retail giant Carrefour is testing LED-based supermarket lighting in its recently refurbished hypermarket in the Euralille mall in Lille.
During renovations to the hypermarket in 2015, Carrefour installed an LED-connected lighting system -- 800 LED fixtures called luminaires -- with indoor positioning from Amsterdam-based Philips Lighting that acts like a GPS and transmits location information to an app that triggers location-based services. This allows Carrefour to send information to customers via its specially-designed Promo C'ou smartphone app.
Philips' indoor positioning system consists of LED fixtures, a cloud-based location database and a Philips iOS or Android software development kit that customers can use to build their mobile interaction platforms, said Karen Gough, head of enterprise systems and services, retail and hospitality at Philips Lighting. Philips software and its cloud-based location database have been integrated into Carrefour's mobile app.
The Philips LED lighting uses visible light communication, or VLC, to transmit a one-way stream of digital information -- in Carrefour's case, a location signal -- to a shopper's smartphone in fast pulses that can be detected by its camera but are invisible to the human eye.
You already have a network, so why wouldn't you use that same network to also connect your lighting infrastructure within a building?

John BaekelmansCTO of internet of everything solutions group, Cisco
"The physics of how LED lights works means [the diodes] have very fast on/off switching times -- so fast, in fact, that if you switch them on and off people can't even notice that they've changed," explained Mike Hornung, lighting and LEDs analyst at London-based IHS Markit Ltd. "But the [device's] camera can read those pulses and it can detect what the light is trying to send."
The phone's camera detects the light's modulation, which is then accessed by the app on the phone. Carrefour's smartphone app reads the VLC code and pinpoints where a shopper is standing in the store to less than 20 inches.
With the Philips visible light communication system, Carrefour can provide new services to its customers, such as helping shoppers navigate and find promotions across the 8,400 square foot store floor. Shoppers opt in to the service by downloading the app, which they can turn off at any time.
"Last year we completely changed the lighting in the store and we tried to give services to our customers to help them with shopping and to facilitate the customer route in the store," said Celine Martin, Carrefour's director of commercial models and innovation. "We focus on helping them find the promotions, which is often difficult because they change all the time."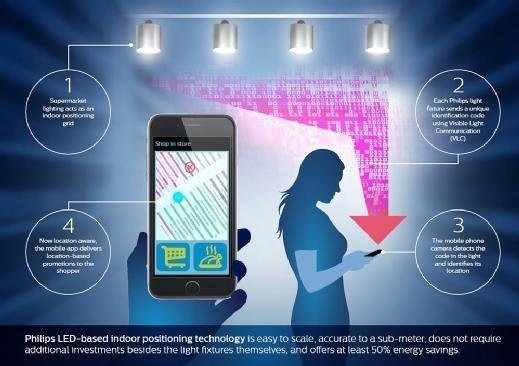 Bringing IoT closer with VLC
VLC technology is being looked at as an alternative to Wi-Fi and other radio frequency communication methods since it isn't subject to radio frequency interference and congestion. It's also more secure because light doesn't penetrate through walls, said Heinz Willebrand, CEO and president at Denver-based Firefly Wireless Networks LLC, a LightPointe venture focused on VLC. Firefly's VLC runs at rates of 500 Mbps or higher.
Visible light communication tech is also one of the communication methods that the internet of things will use to connect millions of consumer electronics and machine-to-machine devices cost-effectively, Willebrand said.
"We are working on a project for industrial communication -- let's say you have a manufacturing warehouse and you want to connect internet-enabled devices there," Willebrand said. "This is typically a very hostile environment when it comes to other forms of wireless communications because you have a lot of metal there and reflections. That is where the optical signal has advantages because it's not prone to interference in these environments."
If a company's internet of things application involves devices that will be in view of the LED lights, such as mounted on factory forklifts, then VLC can enable those devices to be location-aware without requiring infrastructure to be deployed beyond the light bulbs, said Bruce Krulwich, founder and chief analyst at Grizzly Analytics in New York City.
VLC and IoT: Companies working together
Visible light communication applications by Philips have been deployed in office and warehouse settings, as well as in retail and hospitality. Gough said the company uses VLC to help its customers reduce operational and employee costs; drive brand positions or communication statements; and engage in IoT.
For example, Philips has teamed up with Cisco on the latter's IoT-based "Digital Ceiling," a framework that connects all of a building's services in a single, converged IP network. The alliance brings together Philips' Ethernet-powered LED-based connected lighting system with Cisco's IT network to bring the internet of things to office buildings.
"By building on the digital nature of LED technology and using secure networking technology, connected lighting in a digital ceiling brings illumination and IT together," reads a post on the Philips Lighting blog. "It not only illuminates, but also serves as a platform for collecting and sharing data with the users and managers of the illuminated spaces."
Cisco's Digital Ceiling aims to enhance the traditional workforce by connecting intelligent things to create new user experiences, lower total costs and enable business analytics. Companies can use the information acquired from their digital ceilings to save energy, improve employee productivity and make the best use of their workspaces, according to the alliance.
"While Philips focuses more on the lighting side of things, Cisco is known for networking, connecting things together -- that's what we've done for past 30 years," said John Baekelmans, CTO of internet of everything solutions group at Cisco. "We've done that with voice [and] cameras that have converged onto the network."
Baekelmans said the time is right to do the same thing with technologies within the building. The clear frontrunner for that is lighting because LED lighting is fast replacing traditional fluorescent lighting. Lighting is also enabling the first wave of innovation by creating an initial layer of IP-connected light endpoints into the ceiling, Baekelmans added.
"The LED luminaires have been so optimized in the amount of power that they really need that now we can power them from that same network," he said. "You already have a network, so why wouldn't you use that same network to also connect your lighting infrastructure within a building? The cool thing is that all these luminaires have sensors, which are small computers with their own IP addresses; Philips has three sensors inside every luminaire."
Some of these integrated sensors can communicate information about their own status and operations, while others can collect and communicate data on environmental factors in the illuminated areas such as changes in temperature and humidity.
"But you need to bring that data back to somewhere [so you can analyze it] and do something with it," Baekelmans said. "You can see that if you use the network, you not only have a power path, you also have a data path."
For instance, analyzing the information gleaned from Philips' sensor-equipped, Ethernet-powered LED luminaires can allow employees as well as building managers to control lights via smartphones and other devices.
Cisco is also working with other lighting partners, including Durham, North Carolina-based Cree Inc., to enable IoT for buildings. Earlier this year, Cree introduced SmartCast Power over Ethernet (PoE), an open platform that enables IoT for buildings through better light.
The SmartCast PoE embeds intelligence to make buildings more efficient and people more productive, while delivering better light with less energy than ordinary LED lighting systems, according to a Cree press release. Cisco's Digital Ceiling framework provides connection to the network.
When equipped with sensors, LED lighting linked into IT networks can be used to collect, send and analyze data. With Ethernet-powered lights deploying VLC through SmartCast PoE, users can, for example, preconfigure their lighting preferences so the lights adjust when they walk into various rooms, the company said.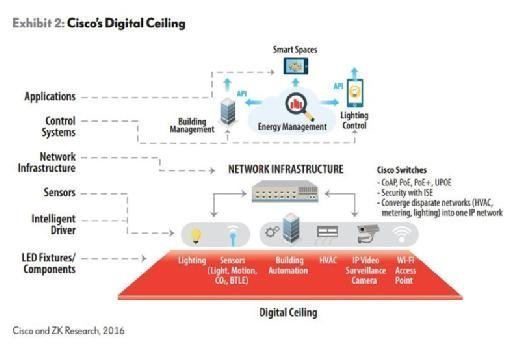 Visible light communication applications in the classroom
One of Cree's first customers is the Mobile County Public Schools in Alabama. A longtime customer of Cisco networking equipment, the school department recently installed PoE ceiling luminaires connected to Ethernet switches in a building that houses 10 classrooms as well as a media room where students go to collaborate on projects, said David Akridge, executive manager of IT for the Mobile County Public Schools. Beyond the energy efficiency the system promises, "we have the ability to tune the color of our lighting to create custom, comfortable classrooms," he said.
Akridge added that the intelligent lighting could also serve as an emergency and security system, for instance, by programming it to flash different colors for different emergencies, e.g., red in the event of a fire or yellow to announce a lockdown if an armed intruder has broken into the building. Or the lights could be programmed to blink in a succession or pattern to signal that the school must go into lockdown immediately.
"Right now if we're in lockdown, it's a call on the phone or intercom-wide," Akridge said. "Here it would be much more secretive so the criminals wouldn't know what was being done."
Ultimately, the school envisions deploying the system across its 89 facilities to allow staff and teachers to adjust brightness, color and temperature of the lights to fit student needs and teaching requirements, he said.
Dig Deeper on Internet of Things (IoT) Wireless