Paul Fleet - Fotolia
Pioneers set sail with cutting-edge augmented reality applications
Augmented reality apps help shipbuilders and manufacturers jettison paper manuals for training and maintenance tasks.
The USS Gerald R. Ford, the Navy's next-generation $13 billion aircraft carrier, is a pioneer in many ways: It's the first of its kind to be designed by using a full-scale 3D model, it will save more than $4 billion in total ownership costs during its 50 years of service, and it operates effectively with 700 fewer crew members than its predecessor. What's also worth noting is that Newport News Shipbuilding and its partners took a maiden voyage experimenting with augmented reality as a part of the Navy ship project.
Augmented reality apps in the Navy
Though still in its infancy, companies like Newport News Shipbuilding are pioneering ways to exploit augmented reality applications to transform the way they develop, produce and maintain products. Index AR Solutions, which is working with Newport News Shipbuilding and others on the design of custom AR applications, projects the U.S. enterprise market for AR reaching $105 billion within 15 years, including $49 billion spent on hardware, $11 billion on software and $45 billion on services.
The technology is really a breakthrough communications medium, contended Dexter Lilley, COO of Index AR Solutions, which was founded by former executives from the shipbuilding company and is currently teaming with it to create AR applications. "It's like the difference between having a TV and not having a TV," he said. "It's a new communications medium that allows people to see things in 3D before they're there or walk around something. That's the leap."
It's a new communications medium that allows people to see things in 3D before they're there or walk around something. That's the leap.

Dexter LilleyCOO, Index AR Solutions
One of the primary ways Newport News Shipbuilding is using AR is to replace drawings and paperwork packages. In one example, the company developed an AR tool that would eliminate reliance on stacks of drawings to locate the temporary steel -- nearly 100 tons of it -- used during the construction of the aircraft carrier. By digitalizing the ship's blueprints and using a custom-developed augmented reality app built by the partners using PTC's Vuforia AR platform among other software, shipyard workers can now easily identify the temporary steel that needs to be removed just by walking around using a tablet. The AR app color codes the temporary structures as green while permanent steel and foundations are displayed in other colors, which allows the steel that needs to be removed to be identified quickly and easily, Lilley said.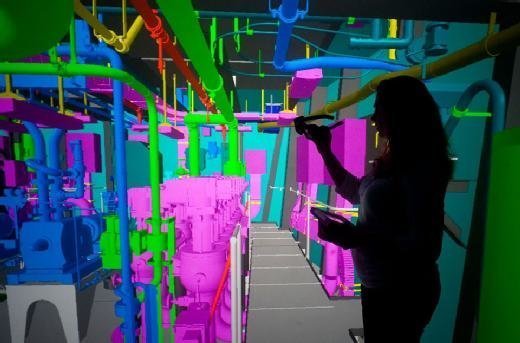 "Now they walk into the space, access the 3D marker and look around the ship, and the temporary steel shows up in green," Lilley explained. "We took 36 hours of work and did it in 90 minutes."
Additional augmented reality applications on the rise
Newport News Shipbuilding is also working with AR solutions in other ways. The firm has leveraged augmented reality applications to highlight critical safety information when working in a challenging environment and to provide a more user-friendly way for on-board sailors to become proficient at maintenance tasks without having to sort through cumbersome and hard-to-understand paper manuals. There are also numerous use cases of AR training underway, officials said.
In addition to its AR partnership with Newport News Shipbuilding, Index AR Solutions is working with manufacturing and construction customers on a variety of custom augmented reality applications for quality assurance and inspection. The company, which to date has conducted about 50 projects, enables its engineering clients to develop augmented reality apps on top of platforms like Vuforia and the Unity gaming engine without having to rely on dedicated AR developers and spending months or longer programming solutions.
"A lot of people think you can buy a piece of AR software and solve complex industrial problems and you just can't," Lilley said. "We stretch Vuforia -- it's not designed to do training or instructions, it's designed to provide vision science."
Dig Deeper on Internet of Things (IoT) Strategy