olly - Fotolia
IoT fleet management keeps things clean for Karcher
IoT fleet management helps track not only with planes, trains and automobiles, but also, in the case of Karcher, cleaning equipment.
Internet of things applications in fleet management most frequently refer to vehicles moving across land, sea and air. Companies that deploy numerous pieces of equipment to client sites, however, must also keep track of their property -- and IoT fleet management platforms that take advantage of global communications networks can be critical to completing this task.
Hospitals, offices and factories must remain clean to provide safe environments in which to heal, work and manufacture. To maintain these premises inside and out, building managers engage professional cleaning service providers that deploy people and fleets of sweepers, driers, pressure cleaners and other equipment.
One leading manufacturer of cleaning gear for private, commercial and industrial sites is Kärcher GmbH & Co. KG. This Germany-based family-owned business produces a wide range of cleaning solutions including high-pressure cleaners, vacuum cleaners and steam cleaners, window vacuums, sweepers and vacuum scrubbers. With customers operating across borders and regions in 60 countries, it recognized the need for a cost-effective way to track the locations and operational status of all its equipment no matter where it is located.
IoT fleet management to the rescue
To address its customers' requirements, Kärcher product specialist Markus Wiederspahn said executives envisioned an IoT fleet management solution they could use to get an overview of equipment operating conditions, charging cycles, runtimes, deployment locations and maintenance needs. Kärcher wanted a system where users could set alarms, warnings and operational notes, as well as carry out other functions -- all from a portal or handheld device. Additionally, it had to accommodate customers who move machines across borders (for example, in the border region of France, Germany and Switzerland) and who only wanted to deal with one solution and one network provider.
To develop what it calls "Kärcher Fleet," the company worked with Vodafone Group, an international communications service provider that offers an IoT platform including M2M technologies. Vodafone has been supporting M2M applications for more than two decades and recently integrated them into its Vodafone IoT Solutions operation.
What makes Vodafone a good partner for Kärcher are its one-stop facilities; its IoT platform is available in 40 markets and its 4G wireless solution is deployed in 71 countries and links to more than 101 other networks, allowing Kärcher and its customers to only deal with one vendor.
In the long run, customers will be able to optimize their overall machinery; this will help to decrease costs and increase profit margins.

Markus Wiederspahnproduct specialist, Kärcher
To enable fleet management, Kärcher installs SIM cards in every one of its machines. Kärcher Fleet then uses the Vodafone IoT platform to communicate with each machine's SIM card and capture data about its condition, type of operation, maintenance state and which user is logged in. Because it tracks the machines' locations, the system also knows if they have been stolen or used in an unauthorized way.
All the data from the SIM cards is received at the Vodafone Remote Monitoring and Control (RMCS) platform, which then presents the data on customer dashboards (e.g., web-based portals and Mobile apps). The customer's fleet manager can set and display alarms and warnings and define other information as needed. Users can also assign machines to specific locations and display that information on a map. The entire system presents globally consistent and customized functions and interfaces to each customer. Not only can Kärcher customers monitor their equipment, but they can also change machine settings via the Vodafone's IoT platform. Designed to Kärcher's specification, this IoT platform manages all the SIM cards and globally links all the data to the Vodafone RMCS.
Customers can define who gets access to what data depending on the specific role of each user. For example, a facility manager of an office building can only access data for the machines located in that building. However, the area manager can see data from all the machines in the buildings in that area. Furthermore, users need not be online all the time.
According to Kärcher, if a severe problem occurs (for example, if the cleaning process has not started on time), the system can send "push alerts" to the smartphone of the manager who can then take appropriate actions.
Business benefits of IoT fleet management
Kärcher and its customers reap a range of benefits from the IoT-enabled Kärcher Fleet capability.
According to Kärcher's Wiederspahn, the system can detect a need for maintenance and the customers can use it to schedule preventative maintenance at a convenient time, which reduces unexpected downtime and improves overall equipment utilization. Kärcher Fleet's ability to keep track of each piece of equipment's location offers protection against unintentional loss, theft and misuse.
Its system "excels by its ease of use," Wiederspahn said. Because all data is transferred to the cloud, customers do not have to download any software, they just "log into the system and browse through the data."
These benefits undoubtedly improve customers' competitive differentiation as well as help cut costs, improve efficiency and contribute to better margins, although the exact amount specifically attributable to Kärcher Fleet is hard to measure because it's not the only factor contributing to customers' business results, Wiederspahn said. Effective marketing plans, sales promotions and knowledgeable customer support staff can also help Kärcher customers improve utilization, increase customer loyalty and drive new revenue.
Its IoT fleet management system helps customers optimize the utilization rate of their cleaning equipment, according to Wiederspahn. "In the long run, customers will be able to optimize their overall machinery; this will help to decrease costs and increase profit margins."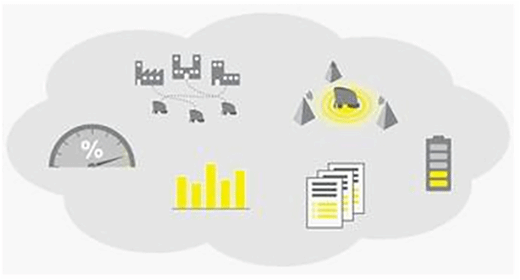 Wiederspahn also pointed to another benefit of using Kärcher Fleet: "better fulfilment of the service levels our customers have agreed on with their customers." For example, if a machine fails, users need not look up the inventory number or machine type since that information is in every report the machine sends. As a result, service engineers can send the machine for repair more quickly than was possible without Kärcher Fleet.
Vodafone's IoT platform provides Kärcher with "a single-source, global, scalable, managed IoT connectivity platform supporting a fleet management solution Kärcher can tailor to a range of vertical markets," said Melissa Salottolo, senior industry analyst relations and PR lead at Vodafone Americas.
Kärcher Fleet's management platform is also a competitive differentiator. "Within the segment of building service contractors, Kärcher Fleet is the first and most advanced fleet management system in the market, at least as far as we know," Wiederspahn said.
Collaborating also benefits Vodafone and Kärcher through their long-term relationship. Although Vodafone must sell to Kärcher at the end of each contract, it is easier to work with an existing customer than it is to sell to a new one. And Kärcher benefits in a similar way; it deals with a team it knows will deliver what it needs. Although that may not be the least-cost solution, its investment in Vodafone's IoT solution provides a reliable source of innovation and competitive differentiation.
Next Steps
The benefits of IoT for the supply chain are becoming clearer
Learn how Air Canada Cargo is using IoT to monitor shipments and improve customer satisfaction
IoT will be the eyes and ears of tomorrow's factory