FotolEdhar - Fotolia
IoT development platforms breathing life into connected products
Tools have emerged to help companies design and manage IoT products and systems in ways that cut costs and make people more productive.
Erik Heidt, a Gartner analyst who covers the internet of things, thinks of an IoT development platform as the "hub and spoke" of an IoT deployment.
Heidt said an IoT platform handles critical operations for enterprise IoT initiatives, including monitoring and managing data streams from IoT edge devices, storing data in appropriate databases, performing descriptive or predictive analysis, managing edge devices and orchestrating API calls to back-end enterprise applications.
When they operate correctly, IoT development platforms can help organizations do four things well: allocate budgets strategically, monitor the performance of the facility 24/7, maintain a high level of security, and leverage analytics data to enhance the customer experience.
As prolific as they are, Heidt warned that there's inherent risk in adopting any IoT development platforms.
"Before companies move forward they should understand that these relationships with IoT companies are long-term partnerships that are difficult to modify," he said. "Because when IoT systems are down, the business stops operating."
Understanding that these are important decisions for organizations, we set out to learn more about three IoT development platforms and how companies are deploying them today.
Xively by LogMeIn Connected Product Management Platform
Talk about an IoT environment. The Leafy Green Machine, the climate-controlled shipping container from Freight Farms that makes urban agriculture possible, consists of at least 40 instruments and 12 sensors and runs over the Xively by LogMeIn Connected Product Management Platform.
With roughly 110 Freight Farms shipping containers in operation around the U.S., the company's goal is to foster locally grown agriculture in urban areas.
"The millennial generation wants to live in urban areas, but they also want access to locally grown vegetables and produce, so there's a real need we're trying to fill," said Kyle Seaman, director of farm technology at Freight Farms.
Seaman said the instruments and sensors in each shipping container manage some 7,000 plants. As a general rule, the farm's IoT infrastructure keeps the environment regulated within an acceptable bound. Without this automation, the farm could see humidity spikes and the plants could actually grow faster than intended, resulting in improper growth, while also using up too much water.
Freight Farms uses integration enabled by Xively; event data that's tracked 24/7, such as nutrient levels and water temperatures, flows into data storage at a regional AWS data center. It also uses the Xively integration feature to connect the container's IoT environment with CRM features in Salesforce.
"We created a rules engine so that asset management and customer support data can flow into Salesforce; for the most part we use it to integrate our customer support tickets," Seaman explained. "However, our goal is to get to the point where the system becomes so familiar with the environment that it can diagnose issues in a more proactive manner, before a problem occurs," he said.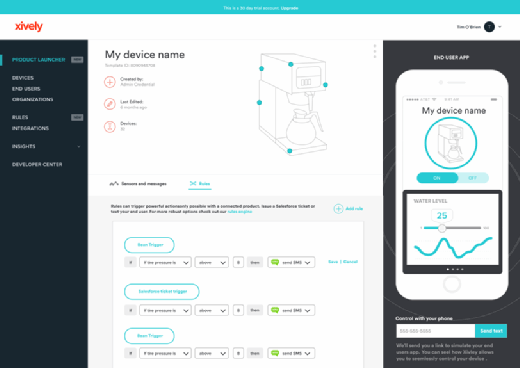 Seebo IoT development platform
Guy Orr, a director of Mookie Toys, a supplier, distributor and manufacturer of branded and licensed toys and a top 10 toy supplier in the U.K., said the usage analytics the company receives from the Seebo IoT development platform makes the investment worthwhile.
"In the past we made plastic toys and could never get a real sense of to what extent the children were playing with the toys," Orr explained. "We never knew what features they liked or if they actually used the toys. We wouldn't know if a kid played with the toy an hour a day or a minute a day."
With smart sensors installed in its Pebli line of toys, for example, Mookie Toys uses the Seebo platform to receive information on the amount of time the children play with the toys, frequency of use, and which features and characters they like best.
"The tool lets the product evolve as the child develops," Orr said. "Now that we have more information on how the children use these products, we can make the next versions much better and tailor products to specific age groups, genders and locations."
Seebo also reduces the toy company's time to market in developing new products. For example, Orr said it can take up to five months to just source components for a new product. By having contacts with all the component suppliers and information on pricing, Seebo cuts sourcing time in half.
"Now we find components faster and we don't have to order samples and run tests by hand, we can test how the components will run over the Seebo platform," Orr said.
Cayenne by myDevices
At the Consumer Electronics Show 2017, myDevices demonstrated how LoRa chip maker Semtech uses the Cayenne IoT Project Builder to manage a test of PNI Sensor Corporation's PlacePod smart sensors at Semtech's headquarters parking lot in California. Semtech installed PlacePod smart parking sensors in the company's electric vehicle parking spaces to deliver accurate real-time occupancy status.
Becky Oh, president and CEO of PNI, said 12 Semtech employees now receive alerts from Cayenne when any of the company's six spaces for electric cars becomes open. Oh added that the PlacePod sensors will start shipping in early 2017 and that PNI designed the product to scale for much larger applications.
Oh said that now most large stadiums, for example, often manage parking by a team of on-site staff who provide visual confirmation of thousands of available parking spaces and then communicate with each other via radio to direct traffic flow.
"On busy game days, this inefficient process creates traffic congestion in the stadium parking lot and underutilizes parking assets," Oh explained.
Oh's vision for the future? By equipping parking spaces with PlacePod parking sensors to provide accurate real-time parking data, stadium operators can then use the Cayenne IoT development platform to efficiently manage parking supply, enhance the visitor experience and potentially increase parking revenue.
"Stadium operators can offer fans high-value premium parking closest to the stadium by notifying them and directing them to available parking spaces in the premium lots," Oh said.
Oh added that municipalities could also earn additional revenues by charging for each parking event and eliminating so-called parking space piggybacking. Therefore, if a car leaves before the meter is up, PlacePod sensors will detect that the spot becomes vacant and when another car enters the spot, the next car will need to pay upon entering, allowing the city to maximize its parking revenues.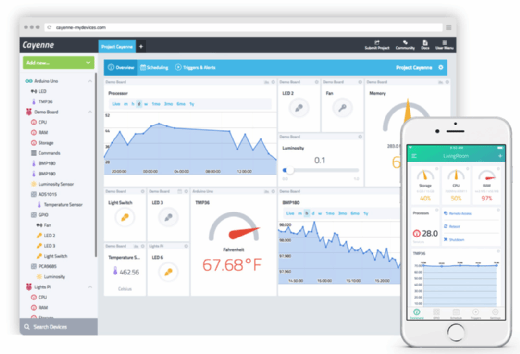 Dig Deeper on End-to-End IoT Development Environment