Andrea Danti - Fotolia
IoT and AI innovate construction and mining
While AI and IoT have already made inroads in various industries, their effects are beginning to be felt in construction and mining.
The use of IoT and AI has already transformed many industries, with the combination of connectivity, big data,...
Continue Reading This Article
Enjoy this article as well as all of our content, including E-Guides, news, tips and more.
machine learning and increased processing power from GPUs making its mark in healthcare, manufacturing and government.
At Nvidia Corp.'s recent GPU Technology Conference in Japan, we got to see how these technologies are on the verge of disrupting the construction and mining vertical.
Using IoT and AI to save lives
At the event, Nvidia announced a partnership with Japan's Komatsu Ltd., one of the world's largest makers of construction and mining equipment. Nvidia GPUs will be embedded into heavy machinery to help the industry improve safety and increase productivity.
One of the biggest problems in construction and mining is that large equipment moving around people leads to many accidents. In fact, the Bureau of Labor and Statistics estimated that more than 10,000 injuries occur annually because of construction vehicle and machine accidents, costing companies millions of dollars in lost productivity. According to the Japan Construction Occupational Safety and Health Association, there were more than 300 deaths and 15,000 injuries at construction sites in Japan last year alone.
IoT and AI can make connected construction vehicles more aware of their surroundings to avoid injuries. This is similar to the impact that AI is expected to have on autonomous cars. Massive amounts of data combined with machine learning enables cars to differentiate between trees, other cars, people and anything else that could create an unsafe situation. Similarly, outfitting heavy machinery with Nvidia's Jetson AI platform can make it much more aware of its surroundings, significantly improving safety. In the future, the machines will be able to "see" everything around them and avoid dangerous situations.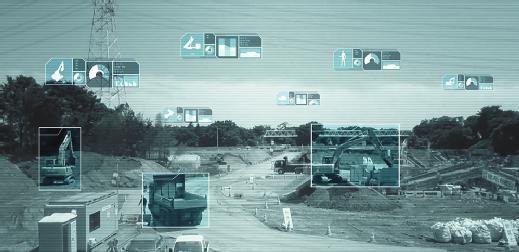 Achieve smarter smart construction
Komatsu has had a smart construction initiative to connect its vehicles since 2015. However, the introduction of GPUs will enable faster image processing and data analysis using AI to make better, faster decisions. While this would not have been possible just a few years ago, there has been tremendous innovation in GPUs that can deliver massive processing capabilities at a reasonable price.
In addition, Komatsu will use Nvidia processors to create 3D models of construction sites that can show how machinery, people and other objects interact. These models can be used to optimize how vehicles move around the site. The equipment will also be monitored with IoT technologies to better understand usage patterns and enhance efficiency.
Another innovation presented at the show comes from connecting drones and cameras to gather data and create a 3D map of the terrain to understand how work on the site is progressing. A Japanese startup called Skycatch Inc. serves as Komatsu's drone partner, while another, OPTiM Corp., is the IoT management software vendor, providing an application to identify people and machines in real time from the video feed.
Combining IoT and AI has the power to completely redefine the operations of almost every industry vertical. For construction and mining, the combination of IoT and AI powered by GPUs can improve safety, increase vehicle efficiency and simplify job-site management.
Dig Deeper on IoT APIs, Applications and Software