Internet of Things in healthcare keeps patients healthy, safe
Infusion pumps and medical records aren't the only uses for IoT in healthcare. Boston Medical Center taps IoT for an innovative approach to patient care and building operations.
While many IoT deployments focus on routine operations like controlling lighting and heating, the technology goes...
Continue Reading This Article
Enjoy this article as well as all of our content, including E-Guides, news, tips and more.
a step further at Boston Medical Center, where everything from newborn babies to leftover food are reaping the benefits of the Internet of Things in healthcare.
For instance, the hospital uses sensors for security purposes. Newborn babies are given wristbands, allowing a wireless network to locate them at any time. If a newborn is taken too close to an exit door without being signed out, elevators will stop and exit doors will lock. And in the neonatal intensive care unit, nurses receive critical alerts on hospital cell phones about their patients' medical conditions, including heart rate and oxygen changes that sensors have detected, allowing them to get to patients' bedsides more quickly.
In addition, the benefits of using Internet of Things in healthcare aren't limited to medical applications at Boston Medical Center. As part of the hospital's sustainability efforts, it uses a "biodigester" that composts food scraps from the kitchen. This machine is monitored with IoT technology to make sure it's working properly, to measure how much waste is running through it, and to determine whether enough water is being used.
The hospital -- whose campus spreads across a few city blocks in Boston's brownstone-lined South End neighborhood -- also installed wireless sensors in refrigerators, freezers and laboratories to ensure that blood samples, medications and other materials are kept at the proper temperatures.
"We used to have someone manually walk around and chart the temperatures and document that," says Jim Piepenbrink, director of clinical engineering at Boston Medical Center (BMC). "The ability to have wireless alerts is a great time saver for the staff."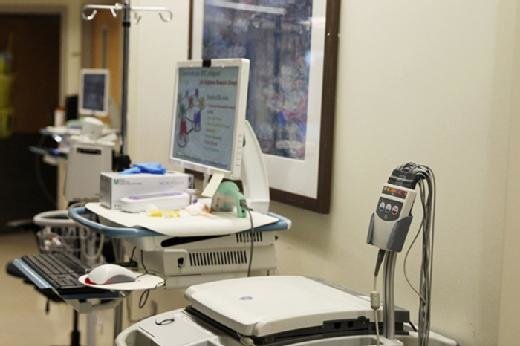 In addition, using the Internet of Things in healthcare has allowed BMC to update electronic medical records faster. For instance, an order can be placed for an EKG, and once it's performed, it is automatically transmitted to the archive system. There, staff members can remotely view it and even compare it to previous EKGs -- a far cry from when a paper file was brought to a cardiologist by hand and placed on a pile on the doctor's desk for review.
Also, the hospital has more than 600 infusion pumps that provide medication to patients. With this application of the Internet of Things in healthcare, BMC staff members can now dispense and change medications automatically through the wireless network, rather than having to physically touch each pump to load it up or make changes.
"We can push out a new formulary in five minutes, versus having to hunt down pumps over two and a half city blocks, which was a huge time sink for my staff," Piepenbrink says. "With improvements in the wireless network that we've made over the last few years, it allows us to have better coverage and also to feel easier about making sure patients are getting what they need."
Read more from this series: IoT networks
Much of this technology has been deployed within the last two years. The hospital's IT department had to be careful when designing the access point layout, because in a multi-story building, Wi-Fi signals can bleed between floors, says Craig Reise, BMC's manager of infrastructure engineering at the hospital. IT also had to be conscious of potential interference from objects like elevators and microwave ovens.
Moreover, the team had to take into account other factors when deciding how to use the Internet of Things in healthcare settings. Certain areas, like the lead-lined walls of radiology labs, wouldn't allow for the penetration of wireless signals. Reise says they were careful not to place its access points from Aruba, a Hewlett Packard Enterprise company, within patient rooms -- since they wouldn't want to disturb patients when an access point needed to be repaired -- so many were placed in hallways.
"It really drives a discussion about, what are the application requirements for a particular area?" Reise says. "You want to make sure if you place an access point in the hallway, it will extend all the way to a patient's window where the nurse is trying to enter information. We've had to make some tweaks, but we've had pretty good coverage overall."
Five tips for IoT networks
Safety first: Before you start inputting and collecting data, consider the integrity of your path to make sure it's secure. Aside from using a variety of security tools, it's important from an administrative standpoint to ensure the technology is accessible only to those with authorization.
Avoid interference: Particularly in dense deployments, you need to be careful not to overload access points or place antennas for two different systems too closely to one another.
Assess your capacity: Look at the density of your devices and the capacity of your infrastructure to handle all of the devices. In an environment like an oil field, there might be a few devices that cover a broad area. Whereas in an environment like a sports stadium or university building, you might have hundreds or thousands of devices located within a relatively small area, which means the network must have the capacity to handle all of those devices.
Create a management plan: As you design the network, make sure certain controls are built in to allow for easy management of the devices and data they provide. In many cases, IT will look to delegate some of the monitoring responsibilities to other business departments. For instance, custodial staff may keep tabs on sensors that detect when trash cans are full.
Take a big-picture view: Take a big step back to consider what you hope these devices will accomplish. Many vendors push products before users have a good feel for what they actually need. Start with creating a roadmap that takes into account where you want to go with this technology: what business improvements you hope to make, whether it's reducing operational costs, gaining efficiencies in staff time or gathering data on customers.