olly - Fotolia
In Columbus smart city initiative, transportation takes the wheel
Columbus is focusing its smart city efforts around smart transportation to improve its residents' access to jobs and hospitals.
The Columbus smart city vision began with the idea of reinventing mobility to transport the Ohio city to a "future beyond what anyone has yet imagined."
To that end, the city participated in the $50 million Smart City Challenge launched by the U.S. Department of Transportation in 2015 and won due to its holistic vision for how technology can help all its residents move more easily and access more and better opportunities.
The challenge, which generated 78 responses, asked midsize cities across the country to develop ideas for an integrated, first-of-its-kind smart transportation system that would use data, applications and technology to help people and goods move more quickly, cheaply and efficiently.
For Columbus, smart city transportation meant not restricting the options to "multimodal" ones -- and that's what led it to victory, said Rana Sen, managing director of Deloitte Consulting LLP and smart city lead for Deloitte's U.S. public sector practice.
The city instead focused on citizen centricity and inclusion in regard to providing access to safe, reliable and affordable options for the underserved population.
"We put together an application showing the different projects for different deployment districts across our city," said Michael Stevens, Columbus' chief innovation officer.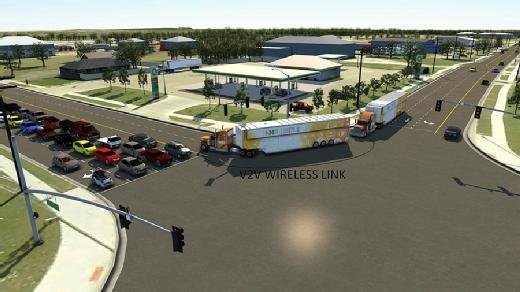 This application included the city proposal to deploy three electric, self-driving shuttles to link a new bus rapid transit center to the city's Easton commercial district, helping connect more residents to jobs, he said. Rather than wait for another bus to take them one stop closer to work, commuters could take a 12- to 16-passenger autonomous shuttle that would drop them off at the front door. The smart transportation system would use existing public roadways that have been upgraded with technology infrastructure to ensure vehicles stay in their lanes and adhere to signal timing. Vision technology, such as Mobileye, combined with connected vehicle technology would support the system.
"We have a very busy area of the city we call the Short North and [another one] of the projects is to use a sensor-based application to manage the delivery of goods and services to restaurants in that area," Stevens said.
A Columbus smart city app with truck platooning will indicate delivery zone availability and include an advanced reservation capability for these limited spaces.
Columbus also plans to use data analytics to improve access to healthcare in the Linden neighborhood, where infant mortality rates are four times the national average, and provide new smart transportation options to those most in need of prenatal care.
"The residential Linden neighborhood has struggled some in the last couple decades," Stevens said. "We're trying to make sure we're giving individuals in Linden ladders of opportunity by using mobility to bring people to job-training opportunities, job opportunities and healthcare appointments with a multimodal trip planning and common payment system."
The proposed Columbus smart city transportation system relies on a card and kiosk system people can use to pay and access transportation to medical appointments, as well as book and pay for the appointments themselves, allowing the city to easily measure the effectiveness of the system.
A focus of the effort includes communication and payment technologies to address obstacles faced by low-income or unbanked residents, as well as those who lack smartphones. Citizens would be able to use passes or a smartphone app to access the city's bus, ride-sharing and bike-sharing services.
"It's easy to use Uber for that first or that last mile from the transit system if you have a credit card," Stevens said. "But if you're not banked and you don't have a credit card, Uber's tough to use. We're trying to work on a common payment system so you can complete your whole trip starting from your front door to the door of your destination."
Stevens said the Columbus smart city initiative also hopes to increase the consumer adoption of electric vehicles and ensure there's some renewable energy being used to help lower greenhouse gas emissions through the use of electric technology.
To that end, American Electric Power (AEP), a regional electric company, is investing more than $100 million to improve the electric system in Columbus and is installing 275 charging stations.
AEP is also installing smart street lighting controls to save energy and increase safety and security. It is also adding smart electric meters for about 900,000 customers -- in addition to the 110,000 already deployed -- to enable two-way communication between the company and the meter, which allows meters to be read remotely and enables data sharing and instant notifications when there are outages.
Dig Deeper on Internet of Things (IoT) in Government