Fotolia
In Chicago, smart city data drives innovation, efficiency
In Chicago, smart city success can be attributed to open data, teamwork and the use of smart city platforms.
Although every city approaches IoT a differently, for Chicago, smart city projects started with and have always been all about the data.
"The city has more than 600 data sets on its open data portal, which relaunched with a more resident-friendly design earlier this year," said Brenna Berman, who was Chicago's CIO for six years, from May 2011 to May 2017.
At that time, Berman left city government to sign on as executive director of City Digital, an urban innovation program that's part of Chicago-based UI Labs. The organization is a public-private partnership that "uses Chicago as a testbed for new, massive, smart city data-driven infrastructure improvements that enhance residents' quality of life and city efficiency," according to the company.
The Windy City's open data portal lets users find city data as well as facts about the neighborhoods, create maps and graphs about the city and download the data for their own analyses. Many of these data sets are updated at least once a day, with some updated several times a day.
"The city started using all that data to drive more efficient and effective services through predictive analytics probably about five years ago," Berman said. "And it applies predictive analytics to just about anything you can think of, from rodent baiting to restaurant inspections to detecting levels of West Nile virus in the lake and the river to elevator inspections."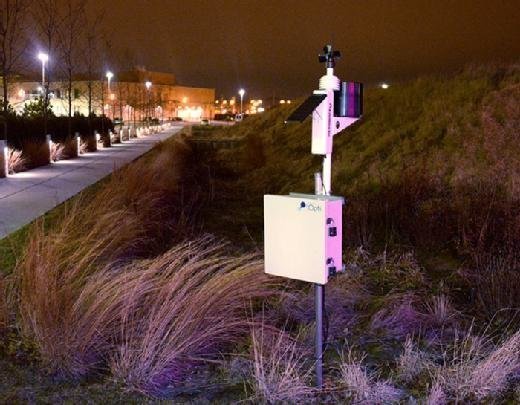 Predictive analytics enables the city to make smarter decisions faster to address a wide range of urban challenges, such as predicting the riskiest restaurants to prioritizing food inspections and forecasting spikes in rodent activity to better prevent rodent outbreaks.
"Then you get to the areas of sensors, which is what most people think about when you say 'smart cities' -- using sensors and secure networks to collect new data," Berman said, noting that " there's probably two groups of projects like that for the city of Chicago: ones that are specific solutions and ones that are platforms that can support more than one solution."
Specific Chicago smart city projects spearheaded by UI Labs have been around using sensors and secure networks and dashboards to address the area's flooding problem. City Digital has assembled technology to enable citywide sustainable stormwater management, Berman said.
The city worked with City Digital and partners such as Microsoft, a local university and a smart startup out of Boston called OptiRTC Inc. to put together sensor networks inside new types of green infrastructure -- things such as permeable pavement in parks and rain gardens.
"These are designed to absorb and hold water to slow down how quickly it gets into the sewer system. Essentially, it extends the reach of our sewer system," she said. "But they're not cheap to install. So, before the city hauled off and spent $50 million on them, which is what was budgeted, it wanted to know how well they work and what kind of green infrastructure solution worked best in what parts of the city and what data and processes the water department needed to manage these solutions."
So, the city deployed six pilots through UI Labs to evaluate those issues and is currently about eight months into the projects.
"We're already getting the data and the information we need to work with the water department to make the decisions about how to best invest that $50 million in those green infrastructure solutions to extend the combined water-sewer system that should help alleviate a good portion of the flooding problem," Berman said.
Chicago smart city platforms
Chicago also has two IoT platforms in use. With its smart lighting platform, the city is replacing 270,000 traditional streetlights with LED lights and then connecting those lights with a smart control system.
It's designed to collect a huge amount of data about the city's environment ... and to use that data to solve any number of problems in the future.

Brenna Bermanexecutive director, City Digital
The Chicago Smart Lighting Project is aimed at enhancing public safety and the quality of life for residents by providing better, more reliable outdoor lighting, along with speeding up responsiveness to streetlight service requests.
"That will enable the city to dim the lights remotely when they're not needed and drive some security and safety solutions through the lighting and allow the city to build additional smart city infrastructure on top of it," Berman said. The four-year project kicked off in the summer of 2017.
The second Chicago smart city platform is the Array of Things, a partnership between the University of Chicago, Argonne National Laboratory and the city of Chicago.
"This is different from other smart city solutions in that it is a research platform," Berman said. "It's not designed to solve any one or even a small set of defined city challenges. It's designed to collect a huge amount of data about the city's environment and infrastructure and how people in vehicles move through the city and to use that data to solve any number of problems in the future."
The sensors that will be installed through the Array of Things smart city platform primarily address environmental information as well as infrastructure and city traffic pattern information for both vehicles and pedestrians.
All of the smart city data will be open source, meaning data scientists and researchers all over the world and community groups in Chicago and elsewhere will be able to use the data, Berman said. The goal is to measure the city in sufficient detail to provide data to allow engineers, scientists, policymakers and residents to work together to make Chicago and other cities healthier, more livable and more efficient.
Dig Deeper on Internet of Things (IoT) in Government