Halfpoint - Fotolia
Uses for augmented reality and virtual reality come into focus
Augmented reality and virtual reality are poised to change the IoT world, but the technologies still have a long way to go to make a profound impact.
Revenues for the augmented reality and virtual reality markets are projected to grow from $5.2 billion in 2016...
Continue Reading This Article
Enjoy this article as well as all of our content, including E-Guides, news, tips and more.
to more than $162 billion in 2020, according to market intelligence firm IDC. Like IoT itself, the uses for augmented reality and virtual reality technologies are viewed as transformative and have the potential to dramatically change how businesses operate.
But there are challenges to be met: Reality terminology is subjective, evolving and confusing (see sidebar). At a high level, these products use computer-generated images, sounds and data to supplement or create scenes that users interact with. Unlike television, which is a passive viewing experience, user input changes the scenes of reality systems. Businesses can potentially couple the technology with IoT devices to deliver applications that streamline business processes, enhance sales opportunities and improve service.
A bevy of uses for augmented reality and virtual reality
Potential uses for augmented reality and virtual reality abound. Black Marble Ltd. worked with police forces to produce holographic and virtual mobile software to better gather evidence and crime scene data. The firm's tuServ application, which runs on Microsoft's HoloLens, creates portable command-and-control units, allowing police officers to see items, images and information associated with a crime scene.
In other use cases, training programs may change dramatically. Businesses today rely on manuals and PowerPoint presentations to teach individuals how to complete both simple and complex tasks. Rather than talking about how to deal with an irate consumer, a trainee wearing a headset could hypothetically walk through a simulated exchange for more hands-on training.
Virtual and augmented reality technologies also help improve sales. With PTC Inc.'s Vuforia augmented reality platform, a salesperson can, for example, provide potential customers with 3D visualizations of a Caterpillar multi-terrain loader.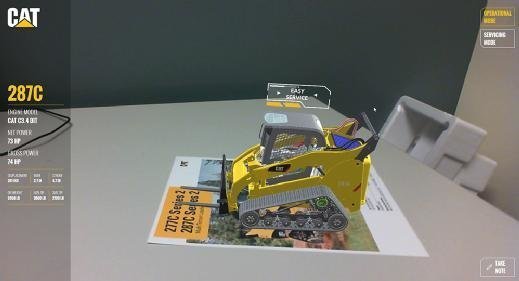 Service is another of interest. Rockwell Automation Inc.'s FactoryTalk Analytics for Devices application features the Shelby bot, which is based on Microsoft's Cortana and allows users to access device health and diagnostics through voice commands. Such tools can be enhanced to provide just-in-time diagnostics, helping a tech repair a faulty device faster.
Much like IoT, the virtual and augmented reality market is fragmented and many different suppliers are vying for attention.
Jay Kim, chief strategy officer at Upskill, said the company's Skylight product tackles efficiencies beyond good diagnostics. Jabil Circuit Inc., a manufacturing services company, uses Upskill's technology to monitor IoT-enabled production machines. "Technicians get real-time data and charts covering machine state, state of shift, yield for each line and other mission-critical information," Kim said. "When errors or outages happen, Skylight notifies the technician automatically and in real time with details about the errors and the machines affected. If the issues are complex, the technicians use Skylight to call for help and stream their view of the situation to experts across the plant or hundreds of miles away."
The steps in a long journey
While the potential uses for augmented reality and virtual reality extend beyond the imagination, this market is at an early stage of development. The next 12 months will bring plenty of pilots, but most companies will not deploy production systems for three to five years, said Mark Hung, research vice president at Gartner.
Why the long wait? Vendors need to put hardware, networking and software infrastructures in place. Most implementations today do not necessarily provide fully immersive experiences, largely because the ecosystem is at such an early stage of development, Kim said.
Another challenge is that virtual and augmented reality technologies require headpieces that dramatically change the user interface. Vendors need to design devices that fit comfortably and enable users to interact with relevant content. "Vendors are struggling with usability and portable challenges," Hung said. Systems today are simply too bulky and not easy to use.
In addition, today's headsets only provide a slice of the surroundings, rather than a person's entire field of view, said Victor Gerdes, vice president of solution management for augmented reality and IoT technologies at PTC. One reason for the shortcoming is the products are constrained by factors such as the device's size and weight; its battery size, life and recharging functions; the efficiency of its CPUs and GPUs; and the richness of its software.
Compounding those challenges, the initial focus from vendors, including Apple, Facebook, Google and Samsung, has largely been on consumers -- and for good reason. Of the 9.23 million virtual and augmented reality headsets purchased in 2016, 80% were used for consumer applications, according to IDC. Different players -- Daqri, Epson, Intel, Meta, Microsoft and ODG -- are just now developing commercial systems.
Finally, the prices for these systems are high right now, said Dave Vasko, director of advanced technology at Rockwell Automation. However, cost is expected to come down as volume ramps up and firms spread their development costs over larger customer bases.
Building up the infrastructure
Like IoT, businesses adopting virtual and augmented reality technologies need a robust application development infrastructure -- one that supports a variety of headgear, networking options and, most importantly, software. Companies currently need to put all the pieces together themselves, which takes a lot of time, money and effort.
To remediate this, vendors are building platforms and software ecosystems with third parties to develop turnkey offerings. Here, APIs need to be developed, published and supported so suppliers can connect their virtual and augmented reality technologies to IoT devices, company databases, front-office applications and back-office systems.
Standards would speed up the process, but there simply aren't any. "Right now, I do not see any clear-cut virtual reality and augmented reality standards," said Michele Pelino, principal analyst at Forrester Research.
Much like IoT, the augmented and virtual reality market is fragmented and many different suppliers are vying for attention. Dozens of suppliers are developing the headgear and hundreds more are building up the application infrastructure, including General Electric, IBM, Intel, Microsoft, PTC, Rockwell Automation, Siemens and Upskill. Eventually, those numbers will dwindle and turnkey products will emerge. But for now, businesses find that, though the uses for augmented reality and virtual reality technologies are interesting and have long-term potential, there are many short-term holes.
So, how should organizations prepare themselves for the maturation of reality systems? Gartner's Hung offered a starting place: Set up proof-of-concept programs to gain some familiarity with the technology and to be ready as the various building blocks fall into place.
Reality's different technology flavors
Suppliers are building immersive technologies, mixing the tangible world with the intangible one. A few variations on the theme have emerged, and each has its own ideal applications:
Virtual reality uses headsets, sometimes in combination with physical spaces or multi-projected environments, to generate realistic images, sounds and other sensations in an imaginary environment. This technology is used for corporate training and consumer applications, such as gaming.
Augmented reality takes a live view of the physical world and augments it with computer-generated input, such as sounds, video, graphics and GPS data. Augmentation techniques are typically performed in real time. Uses for augmented reality include system repair and product design tasks.
Assisted reality, sometimes called mixed reality, enables users to see contextually relevant digital information via hands-free displays. However, the content is not tied to real-world objects and is usually two-dimensional, for example, text, images or diagrams rather than three-dimensional objects.
Much like cloud, reality technologies feature a number of different deployment models. Consequently, market subsets are emerging and precise demarcations are lacking.
Dig Deeper on IoT APIs, Applications and Software