Fotolia
Enterprise voice technology makes inroads in B2E, B2B2C
Enterprise voice applications are coming, and businesses that have already deployed them are improving customer satisfaction, employee productivity and efficiency.
Voice technology, personified by the likes of Alexa and Siri, has made its mark on the consumer electronics sector and is ready to make its presence felt in the business world. Experts say it is a trend likely to accelerate, particularly when paired with advanced cognitive computing techniques.
Putting enterprise voice to work
Enterprises are taking advantage of voice technologies to solve two kinds of problems: employee productivity (B2E) and customer experience (B2B2C), said J.P. Gownder, vice president and principal analyst at Forrester Research.
"I spoke with an organization that created a custom Alexa Skill for its sales managers, who needed real-time updates on sales figures and pricing," Gownder said. "They can ask, 'Alexa, what's the current sales number?' and Alexa will provide the answer, summoned from the company's ERP system."
Similarly, he noted, Wynn Hotel in Las Vegas is doing a B2B2C in all of its 4,700 hotel rooms, using Amazon Echo devices and Alexa to control lights and curtains. "In the future, the devices should be able to book tickets or restaurant reservations, or [have] an ever-increasing scope of skills with an intelligent back end," Gownder said.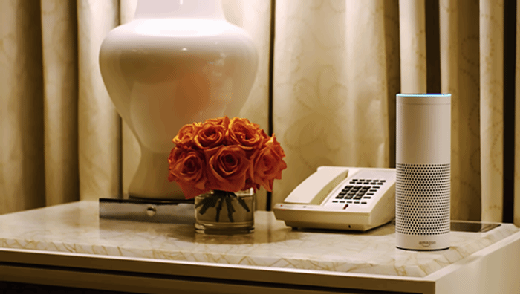 Voice applications offer several advantages, he noted. They are low-friction, natural interfaces and easy to use, especially when an intelligent agent understands users. They allow direct interaction, so instead of navigating hierarchical menus, the user simply makes a request. They're also effective with multisensory experiences, for example, voice combined with touch and/or visualizations, and as an add-on across devices. They're also a natural mechanism for increasingly smart artificial intelligence programs, Gownder said.
The state of enterprise voice
Although he believes voice-enabled enterprise apps are still in early stages, Raúl Castañón-Martinez, senior analyst of enterprise mobility at 451 Research, said adoption is going to grow very quickly. For one thing, users have become accustomed to voice commands in consumer applications and are ready for wider adoption. However, enterprise voice requirements are very different; a higher level of precision in machine comprehension is required compared to typical consumer application. For example, an entertainment voice app that manages 80% accuracy might be acceptable, he noted, but mission-critical enterprise voice applications will require at least 95% accuracy or better.
The most compelling use cases for voice-enabled apps are for those where hands-free is the only or best option available.

Raúl Castañón-Martinezsenior analyst of enterprise mobility, 451 Research
Castañón-Martinez noted that both the devices and the software have improved significantly in recent years; the ability to identify and extract voice in a noisy environment is something that natural language processing is doing much better today. There are also important advancements in the microphones used by different devices. "Another example is the ability to identify more than one user, which Google just recently announced at its I/O Developer Conference in May," he said.
Given that progress, it's no surprise that there are business deployments already using voice commands. Castañón-Martinez said he is aware of Amazon Echo devices being used in logistics and shipping, with several employees sharing the device and using it to follow up on shipments. "The most compelling use cases for voice-enabled apps are for those where hands-free is the only or best option available," he added.
The key players in enterprise voice, each of which has been active in the consumer space, Castañón-Martinez said, are Google, Microsoft and Amazon.
Coldwell Banker Real Estate, for one, is enjoying enterprise voice capabilities after creating two Amazon Alexa "Skills." The Coldwell Banker Gen Blue News Skill provides real estate professionals with company news as well as real estate industry trends. The other Skill, released in the summer of 2017, gives users a look at the company's most exclusive listings.
By prompting Alexa with, "Alexa, open Gen Blue News," agents will hear the latest Coldwell Banker news and have access to additional resources through the Alexa app. The Skill is targeted toward tech-savvy agents and brokers who consume news on the go.
In another application, hospitality company Hyatt, looking to improve customer experience and sales efficiency, partnered with Interactions Inc., a provider of intelligent virtual assistants, to expand its customer service capabilities. Using an enterprise voice application has yielded an average savings of 33% per call, while also improving sales conversion. In the system, human and virtual attendants handle different portions of the interaction and pass the customer back and forth as needed.
That orchestrated handoff between machine and human is the right idea, according to Roman Kalantari, senior design director and creative technology lead at Fjordnet Ltd. "One of the biggest mistakes we see is trying too hard to make it feel human. In general, users want short and concise answers, but often, these voice assistants speak in long, full sentences that create delays and frustration for people," Kalantari said.
Making enterprise voice assistants seem too human also creates unreasonable expectations for the user, often leading to disappointment when it becomes clear that voice assistants can't do everything. "Setting these expectations from the start by making it clear it is a utility and can help with specific tasks creates a better experience for everybody," Kalantari said.
There are a lot of things to think about for organizations considering a voice technology implementation, but having the right team and process is key, Kalantari noted. "This is a rapidly evolving space that can provide a lot of value, but needs to be approached as a live experiment, not a fully finished product," he said. One option, according to Kalantari, is to start with an employee-facing version and then evolve it into a consumer-facing tool, as it "provides more control of the user base and reduces risk, while allowing the organization to learn how to develop for these emerging touch points."
The ultimate challenge is not just voice interactions with people, but rather people interacting naturally with their world, said Jim Hunter, chief scientist and technology evangelist at Greenwave Systems. "It's not just about voice. We need to understand that the real value here is gathering context," he said. Context ultimately reveals intent and spurs the desired action on the other side of that intent, he explained, adding, "We're making technology our personal assistant, which is exactly where it should be relegated to. Technology shouldn't replace human beings; it shouldn't replace humanity at all. But it should be there to enhance and bring value to our lives."
Dig Deeper on IoT APIs, Applications and Software