apops - Fotolia
Design an IoT user experience, not an IoT product
Too many companies focus on designing an IoT product over designing an IoT user experience. These three design principles will help set you straight.
Many companies are confounded by how, when and where to apply sensors, software and data in ways that drive actual value for themselves and their customers. When (re)defining their product or service experiences for IoT, businesses understandably fail to see beyond the complexity. From the proliferation of form factors and modes of interaction to explosive advancements in software intelligence, the pace, range and implication of so much technological advancement is overwhelming. As manufacturers, brands and service providers hastily craft digital strategies, they often prioritize a single tactic as a strategy: building a connected product or developing a mobile app, for example.
But the secret to success is far less about the technology than about design. Businesses build successes by designing user experiences, especially when it comes to the IoT user experience, zooming out from any single technology or channel to consider the new role of design and user experience.
The following are design principles derived from research into IoT deployments that apply not only to products and services, but to the broader user experience strategy.
User centricity is heart of IoT UX
Design means user. Everything starts and finishes with the user, especially as users have to deal with more devices, software applications and data. Every touch point must be considered. Companies must design with meticulous attention, or else risk overwhelming or annoying customers, or driving the user to abandon the product. In an age when customers expect personalized and (near) real-time service, designers at every level simply must account for more contexts.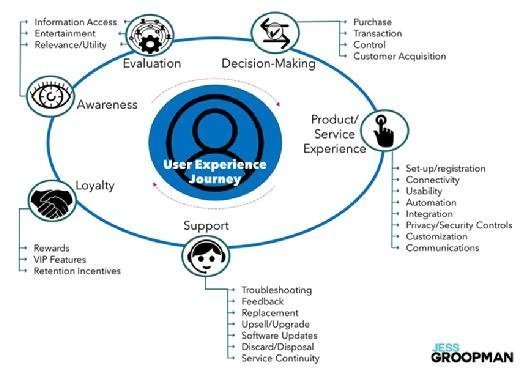 The good news is designing for environmental context helps inform optimal design decisions. Who and where a user is located when using a product or service offers useful cues for feature, form and interaction development. For example, just like time of day, season, holiday, news, social, health, safety or other variable, sometimes sensitive dynamics impact the nature of the brand interaction.
Connected in-home products must, for example, prioritize data privacy controls, defaults, sharing, lighting and child-safety given their inherent context. For obvious safety reasons, an auto manufacturer should deprioritize applications involving a mobile app while someone is driving. Wearable alerts sent while users are not moving may serve different needs than those delivered while walking or running. Keeping the user's context central to the design process also forces companies to deprioritize technology for technology's sake, and more often than not consider where leveraging partners could extend value and even create new revenue streams.
Key questions to ask:
Who are our users? What are their unique personas, drivers, desires, vulnerabilities and psychographics?
If technology or business barriers ceased to exist, what are the ideal scenarios we would offer our users?
How does IoT user experience mapping inform integrated product and service design decisions?
Design products as service hubs through content and integration
Many companies are struggling to transform from product-centric business models to data-driven, service-centric business models. To do this effectively requires businesses reimagine their products as platforms or 'hubs' for interactions, not as nodes or single endpoints. Applications become vehicles for services through content and integrations.
Approaching product design through the lens of service design means plugging in the right content and ecosystem integrations to support meaningful interactions for each unique environment. Because sensors and software enable data transmission between consumer and service provider, connected products themselves become extensions of the brand message and value proposition (or failure).
Businesses designing IoT user experiences must assess how content and integrations support or enhance every brand interaction:
In-store and web-based experiences
Marketing materials, targeting, resonance
Sales materials and interactions
Brand communications and notifications
Purchase process and customer acquisition
Setup, installation, registration
Connectivity support
Instruction guides, community access
Integrations with other third-party products or services
Configuration, customization and automation
Customer support interactions
Loyalty development
Software updates and new feature delivery
Support for environmentally responsible discard/disposal/resell
Service (provider) continuity over time
Orchestration of content, integrations, technology and systems architecture requires that product and service designers work in lock-step to bring technological opportunities and constraints into view while preserving user centricity. Understanding and building for such an integrated context is no easy task, but designing connected products and environments to support 'right-time' service delivery is an essential to any IoT user experience strategy.
Key questions to ask:
Where, when, why and how are users interacting with our products and services?
What value are we providing (for example, problem-solving, education, optimization, assurance, etc.) with each user interaction?
How are we using these interactions to inform ongoing content and integration strategy and development?
Design to problem solve
One way to think about the IoT UX is to consider every data stream a voice. Through interactions, users are communicating their preferences, signaling intent and even expressing needs through action, inaction or abandonment. Compared to traditional market research modalities like solicited focus groups or surveys, this real-time and in-the-wild information is gold for companies committed to serving and anticipating their customers' needs.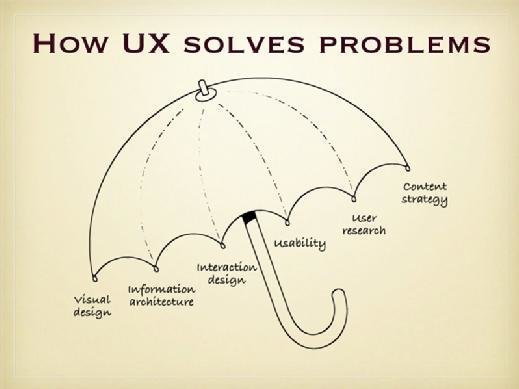 By monitoring sensors attached to products, environments or customers and analyzing interdependencies across data sets, companies can discover improvements. Products and services should be designed to offer continuous streams of data that will help inform improvement to both operational (internal) and user-facing (external) use cases: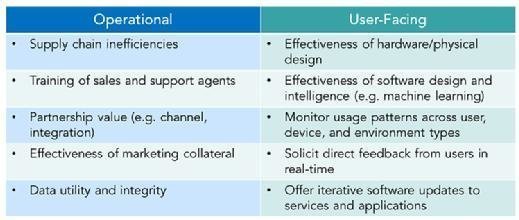 Gone are the days where a company loses sight of its customer the day the product is sold. Hardware, software and connectivity means companies see and interact with their customers, constantly learning from them. With data collection, there's a difference between short-term tactics from long-term strategy. Being strategic means constant curation and analysis, not just with an eye toward practicality, but toward ethical practice as well.
Key questions to ask:
Where are our current blind spots when it comes to users? (setup, preferences, integrations, troubleshooting, disposal, etc.)
What data will we collect from products or services to drive the development of our products or services? How will these data support key performance metrics?
How can we leverage emerging modes of interaction (for example, voice, artificial intelligence, gesture) to gather deeper insights?
Dig Deeper on Internet of Things (IoT) Mobility and Consumers