Mitigate IoT security risks with a strong defense strategy
Editor's note
Security continues to be the No. 1 enterprise IoT adoption barrier, and for good reason. Half of the top 12 exploits in Fortinet's Q4 2018 "Threat Landscape Report" directly involved IoT devices. Four of these threats exploited IP cameras, a device category targeted in the fall 2016 Mirai botnet attacks, proving that many lessons that should have been learned from those attacks haven't been.
Enterprise IoT security is critical. While data breaches can damage brands and be a nuisance, attacks on connected critical infrastructure, medical devices and other IoT systems can be life-threatening.
Use this guide to get up to speed on top IoT security risks and tools that mitigate IoT security concerns.
1

Build an enterprise IoT security strategy

Including IoT in an enterprise security strategy is essential to avoid the potentially damaging effects of connected devices and environments. However, IoT security has a number of caveats that IT security teams may not be familiar with. Find out who's responsible for securing IoT and get help devising an enterprise IoT security plan.
2

IoT security threats

From hard-coded passwords to IoT botnets to new variants of the largest IoT distributed denial-of-service attack to date, IoT security risks are top headline-makers and can do a great deal of damage against a company's reputation. However, many of these attacks and vulnerabilities are easily mitigated. Learn how.

Download this free guide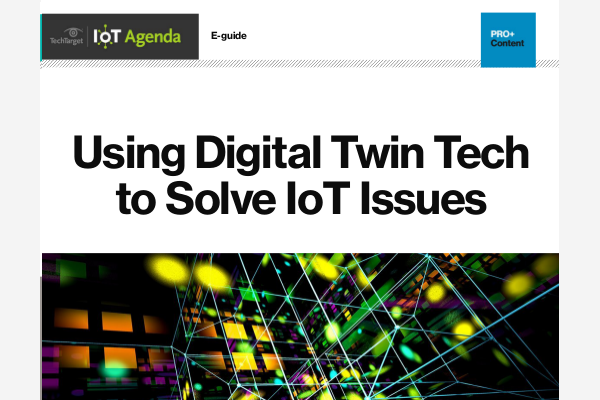 New Trend in IoT: Digital Twin Tech
Digital twin tech, or a virtual representation of a product, is a critical concept in IoT that's still being sorted out. Explore its benefits to IoT, 7 use cases and why it's important for manufacturing's future.
3

IoT security mechanisms

Securing an IoT environment requires a mix of tried-and-true security tools, such as public key infrastructure and encryption, and new technologies, including digital twins, AI and automated threat detection. Read about the various security mechanisms that can help protect your connected deployment against IoT security risks.