Get started
Bring yourself up to speed with our introductory content.
Prevent enterprise IoT security challenges with preparation
Introduction
The Internet of Things is imminent -- and so are the IoT security challenges it will inevitably bring. This guide to IoT security gathers together essential reading to get infosec pros up to speed on the emerging information security threats and the best means for thwarting them.
Among the issues this guide covers are IoT security basics and ways to devise an IoT security strategy. It also reviews the particular security challenges that the IoT era brings with it, reviewing such topics as how to maintain the privacy of personal information, like health data, and how the latest wearable IT devices may affect security.
Read this guide and you will get quickly up to speed on the challenges of, and the solutions to, Internet of Things security challenges.
1

Basics

-
IoT Basics
Just as other phenomena before it, the Internet of Things will surely bring its own set of flaws, threats and related security challenges. However, knowing what you're up against before running into problems will lessen the devastation of any negative effects.
2

Risks

-
Embedded system risks
IoT devices and embedded systems are at the core of IoT's popularity, but unfortunately security isn't. Learn about the risks of IoT and how to keep these IoT security challenges from undermining your enterprise.

Download this free guide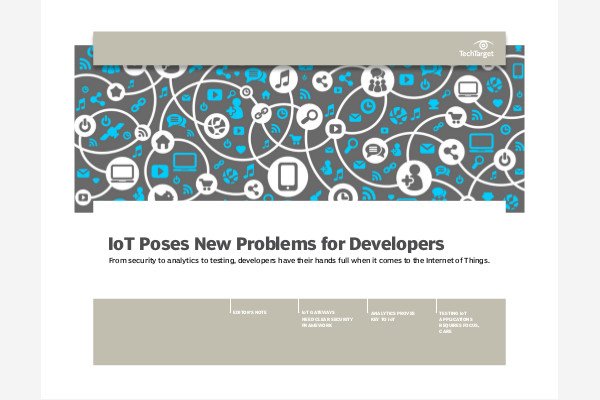 Download Now: The Developer's Guide to IoT
The Internet of Things (IoT) world may be exciting, but there are serious technical challenges that need to be addressed, especially by developers. In this handbook, learn how to meet the security, analytics, and testing requirements for IoT applications.
3

Strategy

-
Security strategy
The key to IoT security is preparation. In this section, explore who's responsible for securing IoT and get help devising an IoT plan that will keep your company safe and sound.
4

Privacy

-
Maintaining privacy
When it comes to IoT, maintaining privacy is a major concern. Learn how your company -- and its employees -- can enjoy the benefits of IoT without putting privacy on the line.
News
To reap the rewards of IoT devices, infosec pros need to focus on privacy and not just security issues. Continue Reading
Tip
IoT security challenges are growing, especially for organizations that deal with health information. The FTC's IoT security report addresses these concerns and raises new ones. Continue Reading
News
A recent FTC report urged vendors to create IoT security and privacy controls as more IoT devices are connecting remotely to corporate networks. Continue Reading