 BACKGROUND IMAGE: iSTOCK/GETTY IMAGES
A comprehensive guide to enterprise IoT project success
Editor's note
By 2020, there will be 25 billion connected "things" across the globe and over half of major new business processes and systems will incorporate some element of the internet of things (IoT), according to Gartner. IT professionals are already beginning to see first-hand the ways in which the internet of things is changing the game, but, in the coming years, we can expect IoT to have an even stronger foothold across multiple IT disciplines. Is your organization prepared for the onslaught of IoT in the enterprise and all the opportunities and challenges that come with it?
In this Essential Guide, we'll explore the increasing role of enterprise IoT, including its impact on everything from security, networking, application development, storage and data analytics. The guide also delves into strategic best practices to help your IT department kick-start an enterprise IoT project and stay relevant in an increasingly connected business environment.
1

Tackling IoT security

With IoT's growing presence also comes increased security concerns. By 2020, more than 25% of identified attacks in enterprises will involve IoT, according to Gartner. Thinking about the security challenges that the IoT era brings may keep many IT professionals up at night, but with the right foundation and strategy, your organization can pacify any IoT security qualms. In this section, get up to speed on emerging enterprise IoT security threats and ways to address them.
2

Utilizing the power of networks

The IoT poses a number of network challenges, including increased wireless traffic and the insatiable need for greater network capacity, but networking can also solve a lot of challenges that come with the adoption of an enterprise IoT project strategy. In this section, learn how to use a variety of avenues to establish networks that boost your organization's IoT agenda and business value.

Download this free guide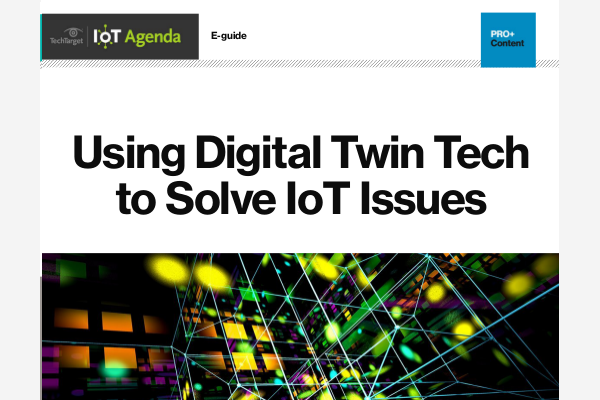 New Trend in IoT: Digital Twin Tech
Digital twin tech, or a virtual representation of a product, is a critical concept in IoT that's still being sorted out. Explore its benefits to IoT, 7 use cases and why it's important for manufacturing's future.
3

Getting the most out of IoT data

We can't talk about enterprise IoT projects without talking about IoT data. With so much data being generated from connected devices, figuring out how to best collect it, manage it, analyze it and mine it for business value can prove a difficult task. By following the guidance in this section, your IT team will be one step closer to unlocking IoT data's full potential.
4

IoT storage decisions

We know that an enterprise IoT project generates a lot of data. That's why, along with figuring out how to analyze that data, discerning how and where to store IoT data is critical to every IT strategy. In this section, evaluate some of your IoT storage options.
5

Make way for IoT apps

How does IoT factor into application development? The better question is: How doesn't it? From choosing the right database or platform for IoT apps to creating new opportunities for mobile-based innovation, IoT is changing the way developers do their jobs. In this section, learn about the emergence of IoT apps in areas like food safety and get tips for building IoT into your organization's app development strategy.
6

Are you familiar with this IoT terminology?