Get started
Bring yourself up to speed with our introductory content.
Vocational training provides more people the skills to work in IoT
Did you graduate from college? Chances are that if you're reading this article you probably did.
The lack of a college degree, however keeps many from getting a job in the IoT field. Requirements for prior work experience and software certifications further limit their options. At the same time, tech firms have a hard time hiring talent to grow. We need to do better for job seekers and for IoT firms. How can more people be trained with the skills employers need? How can training be made affordable and delivered close to where the openings are? How can disadvantaged youth, vets and people making a career transition be trained to fill these entry-level jobs with tech firms?
Background
There are nearly a quarter-million unfilled software job openings in the U.S. today according to ACT, a trade association that includes Apple, AT&T, eBay, Facebook, Intel, Microsoft, Oracle, PayPal and Verizon.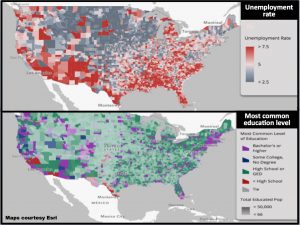 The demand for workers far exceeds supply, which is forcing firms to scramble in order to find the employees they need to grow. Exacerbating the problem is that training is often only available in certain locations, and the content doesn't reflect the changing needs of employers.
Bridging the technical divide?
New approaches are needed to train people broadly for entry-level technical jobs. It's going to involve candidates, IoT firms and training organizations.
How can those with limited resources pay for such training? How do they sustain themselves and their families while getting trained?
How can training be delivered locally or online so travel is minimized?
How is the training aligned with the skills needed by local employers?
How can the soft skills needed for the job also be delivered?
How can the odds of finding a job after the training be optimized?
Here are some groups and programs that show how it can be done:
Year Up helps talented youth gain the skills they need to gain jobs and build successful careers. Its year-long program includes six months of training on technical and soft skills, followed by six months of an on-the-job training. Students receive a stipend during the program so they can support themselves and focus on the training.
This short video sums the immense impact of Year Up, which Gerald Chertavian, an Ashoka Fellow, founded in 2000. It has been featured on 60 Minutes and even recognized by President Obama for giving thousands of disadvantaged youth a "hand up" to a better future. How can you help? Year Up needs volunteers to train students, firms to provide internships and financial support. Bank of America, Salesforce and Microsoft are just a few of the firms providing internships and hiring Year Up graduates. (Personal note: Royce Spencer was my Year Up intern. His commitment to learn and make a better future for himself was an inspiration!). See how you can volunteer with and support Year Up.
Eleven Fifty Academy is a nonprofit based in Indiana that provides immersive training for coders of all skill levels. The training simulates real work conditions with students working as teams and on their own to develop applications and write code. It revises its curriculum by collaborating with technology employers to ensure that training covers the needed skills and that students' coding projects reflect current customers' needs. Students extend their learning through apprenticeship and internship programs with local firms. Employers benefit by hiring workers custom trained on the skills they need and being able to first vet job candidates through internship programs.
Eleven Fifty Academy has been recognized as one of the best coding bootcamps in the country. It also belongs to the Council on Integrity in Results Reporting, which helps prospective students understand a school's outcomes before enrolling. This prevents students wasting their savings on deceptive graduation and job placement marketing claims. John Qualls, the founder, is a former marine and successful tech entrepreneur. See how you can support Eleven Fifty Academy in its mission.
Esri bridges the tech gap for vulnerable populations by working directly with local schools. It provides students software and training to improve their odds of getting a job. Esri works with Roosevelt Math, Science & Technology Academy, an inner-city high school in Los Angeles. Over 400 students at the school have learned how to use ArcGIS since the program started in 2013.
Salesforce offers Vetforce, a job-training program and career accelerator for military service members, veterans and their spouses. The program provides structured, self-paced training to achieve the Salesforce certification needed to apply for jobs with over 150,000 Salesforce customers. Pathfinders is a joint project between Salesforce and Deloitte that offers four months of technical training and support for students to become certified Salesforce administrators and developers. Deloitte provides training on business-effective presentations, solving for the customer, and business writing and proposals. Pathfinder graduates also get career coaching and access to interview opportunities.
A hand up is not a handout
"Americans love the notion that we can all pull ourselves up by the bootstraps. Yet, in this time when millions of jobs have vanished in the United States, supports for struggling Americans are crumbling, and education budgets have been squeezed and slashed, we need to focus on another enduring American ideal — strengthening the rungs on the ladder of opportunity," wrote Randi Weingarten, president at American Federation of Teachers.
So, if you've done well in the tech field, pay it forward and give someone else a hand up!
All IoT Agenda network contributors are responsible for the content and accuracy of their posts. Opinions are of the writers and do not necessarily convey the thoughts of IoT Agenda.