Problem solve
Get help with specific problems with your technologies, process and projects.
TransLoc brings smart transit system to the Research Triangle
Every commuter has experienced the untimely misfortune of a delayed or cancelled bus, train or plane. Yet in today's day and age of connectivity and smart transit, no one should be left asking, "Where's my bus?", let alone wondering what the best transit route is.
One company ready to give commuters the answers they're looking for is mobile software creator TransLoc. Its TransLoc app solves the "first mile/last mile" problem — enabling commuters to easily get to and from their fixed transit locations — while at the same time helping transit companies optimize their services.
To help riders find their ideal routes, TransLoc's smart transit app combines walking, public transportation and Uber (and if you think Uber is going to usurp public transportation, you're wrong; the company estimates public transit serves about 14 times more people than Uber). The app can even notify the Uber driver picking you up from the train station if your train is delayed. It also learns user preferences and can, for example, take weather into account.
"The average American doesn't want to walk more than a quarter-mile to a transit stop," said Doug Kaufman, CEO at TransLoc. "But I'll walk long distances, so the app should know that Doug will walk up to a mile — but only assuming it's not raining — so let's give an option to Doug that includes transit up to a mile away and integrate that service into the app. But when it rains, it won't give that option to me."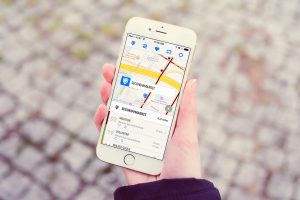 TransLoc services the Research Triangle Region in North Carolina, an area that includes Raleigh, Chapel Hill, Carey and Durham. With more than two million people, it is one of the fastest growing regions in the country. However, it is home to seven transit agencies — each with its own disparate technology system of fares, schedules and platforms, which can make it confusing for commuters and the companies that want to learn commuter metrics. This is when TransLoc stepped in.
GoTriangle, one of the transit systems in the Research Triangle Region, operates 67 buses and 12 express routes for more than 7,000 passengers a day. Jeff Mann, general manager at GoTriangle, said ridership has increased from 1.1 million in 2008 to 1.8 million in 2016, and believes the TransLoc smart transit system has paid off.
"One of the most valuable things to the end user is they don't have to worry about which (of the eight transit agencies) it is," Mann said. "It's one-stop shopping to get you from point A to point B."
Beyond customer satisfaction, the smart transit app's benefit has been clearly recognized in the call center, which Mann said has seen a 50 to 60% reduction in calls since the partnership began in 2011.
Agencies also benefit from the data TransLoc collects. With real-time data about where riders get on and off as well as mobile surveying of riders right in the app, transit agencies can make data-driven decisions to optimize routes and improve services.
"It's just a first step towards a much bigger vision of bringing every mode of transportation together and getting them to all work together," Kaufman said.
The TransLoc app doesn't incur any additional costs to riders and it is free for transit companies to add their services into the app; TransLoc will provide APIs to the company or work with them to integrate company APIs into the program.
TransLoc is currently working with more than 160 transit agencies across the country to enable and expand its smart transit system.