Evaluate
Weigh the pros and cons of technologies, products and projects you are considering.
Top five markets disrupted by sharing economy apps
Sharing economy apps like Airbnb, Uber and HomeAdvisor have the ability to thrive and disrupt incumbent industries. We have identified the five top markets that could become the next frontier of digital disruption, including car sharing, vehicle repair and maintenance, self-storage, tech support and textbook selling/renting.
Car sharing
Uber has already become a major disruptor in one area of the auto industry by cutting out taxi service companies and connecting passengers directly with drivers. Car-sharing apps may become the next wave of auto industry disruptors. These apps are attractive to consumers who want a driving experience without the need for car ownership. The apps connect car owners who are willing to let others use their car when it is not in use — e.g., sitting idle in an airport parking lot or parked at home — and people in need of a car — e.g., business or leisure travelers who need flexible transportation options. Car-sharing apps can offer flexible rental terms and real-time pricing adjustments based on supply and demand.
These apps directly threaten car rental companies by creating a fleet out of otherwise unused vehicles. In this way, car-sharing apps need not incur overhead vehicle costs. In addition, the apps also, to some extent, threaten auto manufacturers. If car-sharing apps gain adoption, the convenient transportation option could impact new car sales and decrease vehicle purchases by rental car companies.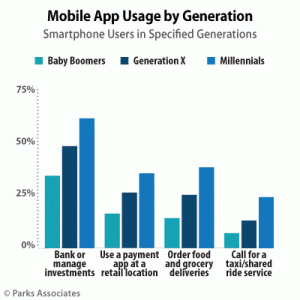 Vehicle repair and maintenance
The vehicle repair and maintenance market is relatively untapped. To expedite expansion, vehicle and maintenance apps should consider partnering with providers of aftermarket auto dongles. In addition to acquiring a preexisting customer base through the partnership, repair and maintenance apps could use dongle-provided vehicle information to offer maintenance alerts and engine diagnostic data, recommend a local repair shop and preemptively alert the repair shop of the vehicle's issue.
Self-storage market
Self-storage apps can match customers in need of storage with those who have extra space available — in garages, attics, basements or self-storage sites. These self-storage apps could be very useful to consumers, who need extra storage space. According to Miller Organizing, 32% of Americans with two-car garages only have room for one vehicle, and 25% don't have room for any vehicles because they use their garages for storage. Further, to increase their reach, these companies could expand offerings to home service apps like Handy or TaskRabbits, or space-sharing apps like Airbnb.
Tech support services
Much like the vehicle repair and maintenance apps, a tech support app can help consumers find the most qualified technician nearby or online to solve pressing tech issues, from fixing routers and recovering lost files to removing viruses and fighting ransomware.
Apps in this market could create a competitive advantage by ensuring quick response times. Consumer data indicates that about 22% of broadband households subscribe to a paid premium tech support service, and these customers' greatest dissatisfaction with their support experience is the long wait times for technicians. Tech support apps could also allow users to chat with a technician to complete routine maintenance or use their smartphone's camera to show where the problem is and let the technician guide them to complete required tasks step-by-step. By delivering the service remotely, the tech support service could lower their prices and attract more customers.
Textbook selling and rental
Textbook selling and rental apps can help students list their used textbooks to sell, rent or trade, keep track of books in case of a rental agreement, and facilitate payment between students. These models could ease financial burdens for college students, who spend on average $1,200 each year on textbooks while only receiving $200 by selling the same books to a campus bookstore.
Apps in this market can also allow students to search for a particular textbook, scan a barcode to list theirs, find interested students nearby, and conduct payment through the app itself. The apps may also allow potential buyers to bid for used textbooks. Textbook apps would allow book owners a chance to review a fellow student's offer along with local bookstores' real-time buyback prices before accepting the best offer.
Apps in all five of these sharing economy categories could disrupt existing industries by exploiting the incumbent industry's inefficiencies and business model vulnerabilities. The consumer experience can be further enhanced through better app design, greater customer service and clear value propositions. App companies still need to draft a concrete and feasible business plan, overcome market barriers and execute scale in order to succeed. Of course, success is not guaranteed if these sharing economy apps execute poorly, can't manage growth or do not differentiate against the competition. Nevertheless, there are promising opportunities for disruption and growth by new sharing apps in the above five markets.
All IoT Agenda network contributors are responsible for the content and accuracy of their posts. Opinions are of the writers and do not necessarily convey the thoughts of IoT Agenda.