Evaluate
Weigh the pros and cons of technologies, products and projects you are considering.
The potential unicorns in IoT
Until recently, we knew unicorns were mythical creatures appearing only in Greek literature, the Bible and Marco Polo's travels. While not a single unicorn has ever been discovered in the real world, these days we seem to be dealing with a whole bunch of them, especially when it comes to business.
Content Continues Below

Download this free guide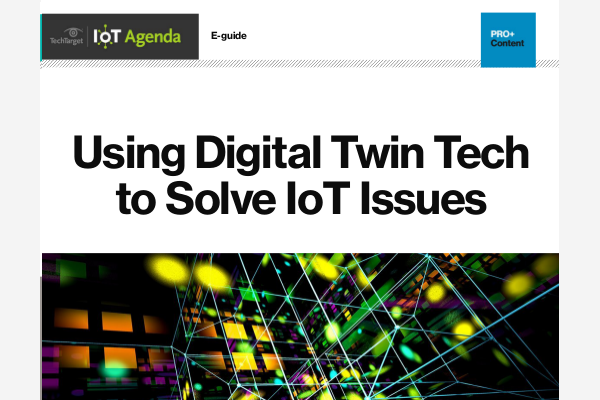 New Trend in IoT: Digital Twin Tech
Digital twin tech, or a virtual representation of a product, is a critical concept in IoT that's still being sorted out. Explore its benefits to IoT, 7 use cases and why it's important for manufacturing's future.
Technology has played a crucial role in small and medium businesses, and has made startups fashionable. Today we have many unicorns trotting about the business landscape. These unicorns are celebrated for their successes and business acumen. Essentially, a unicorn is a startup that is valued at over $1 billion. Think Airbnb, Uber, Xiaomi or even Flipkart. These new set of businesses have disrupted the market in their respected sphere. But companies rise and fall all the time, so one may be tempted to ask: What is so magical about these creatures?
The term unicorn was coined in a TechCrunch article by Aileen Lee of Cowboy Ventures. Part of unicorns' charm lies in reinventing business models. They find a better way to do business — it may be a new idea or an improvement over the existing one. They offer a vision, a glimpse of what the future may hold, and they have an intense desire to grow. They are fuelling their dreams through constant innovation and the ability to adapt quickly and precisely where some of the giant falter. Large businesses are bogged down by internal processes and complexities resulting in delayed decision-making, allowing a startup to swoop in.
According to a study by CB Insights, there are around 175 unicorn companies globally.
The unicorns and the internet of things
Many entrepreneurs have realized that IoT and IIoT technologies can level the playing field if they intend to dislodge industry giants. IoT startups are looking to attract consumers, SMBs or large enterprises by increasingly relying on innovation on cloud and edge computing, IoT platforms, artificial intelligence, IoT networks, IoT security or IoT devices. Advanced technology is a key differentiator, but not the only one. A new business model to attract customers could also become the initiator of a new unicorn.
After five years of exploring the fragmented but rich universe of IoT startups, no new unicorn has appeared. The most promising startups have seen their light turned off behind tech and industry giants' checkbooks. Those who are still pursuing their dreams of being unicorns see that the market does not accompany and no longer relies on analysts' predictions.
With all this, we may not see any unicorn of IoT. However, if I had to bet on some startups then these are my suggestions.
The IoT application unicorn
My vote for the startup to become a unicorn in the IoT application category goes to Uptake.
Founded in 2014 by CEO Brad Keywell, who was also co-founder of Groupon, the company has a good number of investors and is stealing execs away from GE. It has raised around $260 million since launching in 2014. Uptake was last valued at more than $2 billion. In fact, this startup is probably the first IoT unicorn. Uptake's revenue run-rate exceeds more than $100 million per year and future rounds of financing are expected.
LinkedIn profile: "Uptake helps industrial companies digitally transform with open, purpose-built software that delivers outcomes that matter. Built on a foundation of data science and machine learning, our vision is to create a world that always works — one where the machines and equipment we depend on daily don't break, and industrial companies are once again the creators of economic growth and opportunity."
Why my vote: Predictive analytics software is hot. The company sells to the mining, rail, energy, aviation, retail and construction industries and hopes to use data to improve safety, efficiency and productivity for their clients' operations. In spite of the fact that the CEO has not accepted my LinkedIn invitation, no surprise to be honest, only 54% approve of CEO on Glassdoor. Plus the aggressive campaign against GE could launch the company this year. I like that employees are sent directly to the field to observe firsthand the needs of the company's client base so they can build software that solves real business problems.
Also following: FogHorn Systems, a developer of edge intelligence software for industrial and commercial IoT applications
The hardware and sensor data platform unicorn
My vote for the startup to become a unicorn in the IoT hardware category goes to Samsara, which sells hardware and end-to-end technologies for fleet and industrial applications.
Samsara was founded in 2015 by CEO Sanjit Biswas and CTO John Bicket, who previously founded and led Meraki, a successful cloud networking company that was acquired by Cisco in 2012 for $1.2 billion. Samsara is based in San Francisco and was funded by Andreessen Horowitz (raising $25 million in funding). In May 2017, the startup announced it had secured $40 million in a Series C funding round.
Sanjit Biswas recognized that "they were definitely not the first to notice the technology trend behind the internet of things movement, but they realized no one was building products the way we did at Meraki, by combining hardware, software and cloud into an easy-to-use system."
LinkedIn profile: "Samsara's mission is to bring the benefits of sensor data to the organizations that drive our economy — from transportation and logistics to construction, food production, energy and manufacturing — and to improve the safety, efficiency and quality of their operations."
Why my vote: Although on this occasion the CEO accepted my LinkedIn invitation, I like that Samsara disrupts the traditional sensor model with an integrated, software-centric technology. The products combine plug-and-play sensors, wireless connectivity and rich cloud-hosted software, all tightly integrated for simple deployment. Samsara is used by customers in a wide variety of industries, from transportation and logistics to energy and manufacturing. The company offers various systems including fleet, electronic logging device compliance, trailer, industrial, temperature and power.
By focusing Samsara systems on ease of use and streamlining deployments in the field, the teams have been able to make several design choices that help them deliver a 10x overall improvement over traditional technologies. Samsara was on the list of "The 20 Fastest Growing IoT Companies" and is demonstrating how it is able to capture customers in the fleet management and logistics industries over Verizon. The challenge is growth globally, not only in U.S.
Also following: Geotab
The IoT connectivity unicorn
My vote for the startup to become a unicorn in the IoT connectivity category goes to Sigfox.
LinkedIn profile: Founded in 2010 by Ludovic Le Moan and Christophe Fourtet, the company is headquartered in Labège near Toulouse, France's "IoT Valley." Sigfox provides connectivity for IoT. The company has built a global network to connect billions of devices to the internet while consuming as little energy as possible, as simply as possible."
Why my vote: There are drastic limitations in the Sigfox global network. I could say that this will be the network of the stupid devices, but if it improves its network, ensures scalability, quality and security and allows interoperability with its competitors, to will be able to connect the most intelligent devices, then this startup will continue empowering companies to create new innovations for IoT.
Sources announced that Sigfox is in peril as senior executives exit. The company has reacted, but the pressure to grow revenues and network deployment is high. Competing with telco incumbents and the mighty powerful GSMA is a Herculean task. Some help from the French government and the EU will be appreciated, so the company cannot be acquired. Its board and investors should guarantee the money the company need to comply with the high expectations of the market. In my opinion, the window of opportunity is 2020. The company has two years to demonstrate it can become an IoT connectivity unicorn.
Also following: Actility, Link Labs and, of course, the LoRa Alliance and M2M service providers
The IoT/AI platform unicorn
My vote for the startup to become a unicorn in IoT/AI platform category goes to C3 IoT.
I have written a lot about IoT platforms and how I think that most startups will disappear in three to five years, or they will never become a digi-unicorn. But there is a special case that can reach the end of the road — mainly for who is behind the company, my old CEO Thomas Siebel.
LinkedIn profile: "C3 IoT is an AI and IoT software platform provider for digital transformation. C3 IoT delivers a comprehensive and proven platform as a service for rapidly developing, deploying and operating large-scale AI, predictive analytics and IoT applications at scale for any enterprise value chain in any industry. At the core of the C3 IoT offering is the revolutionary C3 Type System — an extensible, model-driven AI architecture that dramatically enhances data scientist and application developer productivity. C3 IoT also offers configurable, high-value SaaS products for predictive maintenance, fraud detection, sensor network health, supply chain optimization, energy management and customer engagement."
Why my vote: In January 2018, the company announced a new round ($100 million) of financing by existing investors TPG Growth, Breyer Capital, Sutter Hill, Pat House and Thomas Siebel.
After the merging of his company with Oracle, Siebel could with this new adventure return to be relevant in the industry, and I think he will not allow his new baby to be acquired. At least not until he makes C3 IoT a unicorn.
Also following: The competition in the AI-powered IIoT sector is brutal, but the opportunity is big enough that the 10 startups highlighted here still have room to maneuver and time to scale up. I also like to keep an eye on them because one or more could well be the next unicorn in this hot market.
Key takeaways
Not being an IoT unicorn is not a tragedy. Many companies that started in the M2M business or that were born in the heat of IoT are doing well; their employees are happy and satisfied customers guarantee a long life.
In my post "Is it possible to democratize the internet of things? How to avoid that a handful of companies can dominate the IoT," I pointed out the opinion of Ryan Lester, director of IoT strategy at Xively by LogMeIn — a company since acquired by Google. Lester said that IoT feels only achievable to those companies with unlimited resources to make it happen. Looks like the facts have given him the reason.
Yes, I admit, I would like to see unicorns in IoT. I would also like startups to not be obsessed with this and not throw in the towel too soon. If they are acquired, their legacy is very likely to be lost soon, and in exchange for money they will have lost the opportunity to contribute to changing the world with their unique innovation in IoT.
Thanks in advance for your likes and your shares.
All IoT Agenda network contributors are responsible for the content and accuracy of their posts. Opinions are of the writers and do not necessarily convey the thoughts of IoT Agenda.