Problem solve
Get help with specific problems with your technologies, process and projects.
Smart city innovation for small and medium-sized cities: Lessons learned
Simple and intuitive interfaces have transformed the user experience in consumer technologies, raising consumer expectations for better applications and services. This dynamic applies just as much to the smart city context. Residents don't just expect better services, they also want greater responsiveness from their local government agencies. And all of this at no extra cost. Small and medium-sized cities face a real challenge because they lack the economic heft and investment capacity of large cities such as London and Los Angeles.
Lacking scale, small and medium-sized cities need to push on several economic levers to access the "smart" service provider community. This means optimizing investment capacity, capitalizing on best-of-breed expertise from multiple operational partners, and laying the long-term foundations to expand the scope of services delivered to citizens and local businesses.
The Industrial Internet Consortium's Journal of Innovation published its latest quarterly edition on the theme of smart cities. It includes advice from an 18-month trial with a group of local government agencies in the U.K. that are working collaboratively in an ecosystem with academic and private-sector partners.
This trial, named oneTRANSPORT, is a first step to validating the implementation principles of a sustainable smart city and region-wide intelligent transportation system. Its operating environment multiplies the use of public- and private-sector connected assets and data resources through:
An open standards, horizontal platform infrastructure. This brings together data suppliers (including city data from different internal departments, national data from regional transport and public safety authorities, and private-sector data from citizens, infrastructure managers, etc.) and data consumers (users of data such as application developers, smart service providers, etc.)
A governance model for private-public sector partnerships that prioritizes local authority requirements. For their part, private-sector partners contribute best-of-breed expertise across the different technical, operational and commercial disciplines implicated in smart city services.
A local authority-led forum to exchange best practice ideas and foster widespread adoption of smart city concepts. Collaboration is essential for the economies of scale that will benefit small and medium-sized agencies.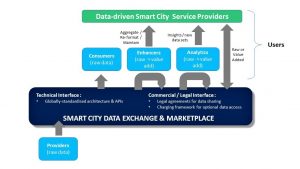 A central element of the trial is a shared data exchange and marketplace that allows data suppliers to transact with data consumers. Data consumers may include firms that wish to subscribe to raw data and handle their own post-processing to support their smart city applications. Other users may specialize in adding value to raw data by supplying clean or metadata streams to other application developers and service providers. A third category might specialize in analytics to extract features or insights that enable smart city services.
A shared data marketplace spreads IT infrastructure and data management costs across multiple users. It creates critical mass, the "carrot" to foster an app developer community. It also means that revenues derived from marketplace interactions contribute to each smart city's finances.
The trial phase of the oneTRANSPORT initiative uses funding from InnovateUK, the U.K.'s innovation agency. This public-sector approach to seed innovation has parallels in other parts of the world, including the U.S.'s SmartAmerica Challenge.
The oneTRANSPORT initiative has made considerable early progress via several customer-led use cases, all of which share a single, horizontal IoT platform. Users see value in using the oneM2M standard because it supports interoperability and helps to manage multiple technologies and vendor lock-in risks. This overall approach to innovation, its phased implementation strategy and the private-public sector governance arrangements contain real-world lessons for other collaborative smart city and smart region initiatives.
All IoT Agenda network contributors are responsible for the content and accuracy of their posts. Opinions are of the writers and do not necessarily convey the thoughts of IoT Agenda.