Get started
Bring yourself up to speed with our introductory content.
Major league IoT platforms: Eight giants to watch
We are witnessing an all-out race among technology vendors to firmly establish themselves with the internet of things. With such urgency to capture the mind of enterprise architects, the largest technology companies have moved quickly to showcase unique IoT solutions.
And while there are hundreds of companies pursuing a range of IoT initiatives, we decided to take a look at the largest companies by market capitalization. Here's what we found: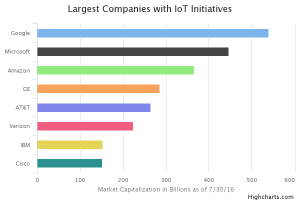 Google
Google places its IoT initiatives under the Google Compute Platform and delivers a wide range of streaming, analytics, data management and security capabilities. While Google retains the biggest heft of market capitalization, companies like Amazon dwarf Google in terms of cloud computing adoption and deployments.
Google does take time to highlight the Google Fiber Network as an option for data to bypass the public internet. The company's ability to build large scale data services largely goes unquestioned.
Not mentioned prominently in the Google IoT overview is the power of the Android market. However, Android is featured as one platform under its Firebase mobile application platform.
Microsoft
Microsoft bundles a large part of its company-wide IoT efforts into the Azure IoT Suite with focus on bread-and-butter IoT applications like remote monitoring and predictive maintenance. Microsoft also details capabilities across device types and analytics, and of course Azure offers a range of built-in services on par with Amazon and Google.
Amazon
The current king of cloud computing has a complete set of IoT initiatives within AWS IoT. Most of these relate to AWS cloud computing offerings, and a recommended IoT stack across a sequence of IoT developed software tools. From its website, "AWS services like AWS Lambda, Amazon Kinesis, Amazon S3, Amazon Machine Learning, Amazon DynamoDB, Amazon CloudWatch, AWS CloudTrail and Amazon Elasticsearch Service with built-in Kibana integration, to build IoT applications."
It is easy to get lost in this mouthful of services name. It appears AWS might need a simplicity initiative in the future.
GE
GE was one of the first companies to dive headfirst into IoT with an independently branded platform, Predix. Predix is based on Cloud Foundry, the cloud native platform to accelerate application development and deployment, developed by Pivotal Software. Predix has top-level billing on ge.com and includes a separate developer website predix.io.
In addition to its IoT platform capabilities with Predix, GE has perhaps the most diversified industrial portfolio of companies on this list with businesses across automotive, aviation, healthcare, industrial manufacturing, energy, utilities and transportation to name a few. GE has already put this heft to use with offerings like Current, which includes industrial lighting as a service.
AT&T
AT&T leverages its heft for IoT across industries including vehicle solutions, asset management for cargo and containers, smart cities and global networks. In addition, AT&T has a portfolio of platform options from more conventional Control Center for asset management and M2X for time series, up to Flow Designer for new application development. Flow, however, is far simpler and offers only a few choices compared to more robust platforms from companies mentioned earlier.
Verizon
As another communications giant, Verizon IoT Solutions look similar to AT&T with offerings across mobile commerce, asset tracking, monitoring and smart cities. Verizon has also launched ThingSpace, a branded platform for IoT development. According to 451 Research, "Verizon has raised its hand as a company with access to the resources and financial runway to play the long game in smart cities and smart communities."
As expected, ThingSpace is heavy on devices and connectivity APIs, but less strong on software infrastructure to build sophisticated IoT applications. This will be an interesting area to watch Verizon evolve.
IBM
IBM bundles its IoT initiatives under the Watson brand, with a heavy focus on analytics. But IBM has a broad cross-industry focus and promotes asset and facilities management, continuous engineering, automotive, electronics and insurance solutions within its IoT arena. As an IT conglomerate, IBM has many of the assets needed deliver a compelling platform. Today, however, everything points to Bluemix, the company's cloud platform, which offers a range of database services from the acquired Cloudant and Compose.
My take on IBM is that it will have solid technology, but even greater integration and services offerings to actually run IoT infrastructure for large companies looking to outsource it all.
Cisco
As the networking equipment king, Cisco stands in a strategic position to help companies connect a range of applications and devices with its Cisco IoT System. Furthermore, no one in this group understands networking protocols better than Cisco, and as we chart new territory to connect billions of devices in new ways, Cisco can use this expertise to its advantage.
Unfortunately, to understand the application development platform behind Cisco IoT initiatives, you have to understand Fog Computing, the company's efforts to rebrand its cloud computing efforts. To date, this remains hard to digest, but hopefully will get simpler soon.
The next contenders
Of course, there are other companies like SAP (market capitalization $105 billion) and Salesforce (market capitalization $55 billion) that may be next in line for the IoT platform wars. One of my dark horse picks is Johnson & Johnson. With a medical devices business and a spot as the seventh largest company by market capitalization of $345 billion, it can afford to buy its way into any aspect of healthcare IoT.
Have a giant company we forgot to include? Let us know in the comments.
All IoT Agenda network contributors are responsible for the content and accuracy of their posts. Opinions are of the writers and do not necessarily convey the thoughts of IoT Agenda.