Get started
Bring yourself up to speed with our introductory content.
IoT roundtable: Hype vs. reality, M&A update and more
We participated in an IoT roundtable discussion last month at the ACG M&A East conference in Philadelphia. The roundtable was organized by Michael Morrissey of Philadelphia-based private equity firm Inverness Graham, which was the primary institutional investor in Raco Wireless leading up to its acquisition by Kore Telematics in late 2014. Other participants in the roundtable were John Horn, previous president of Raco Wireless and currently CEO of Ingenu, and Keith Schneider, who most recently served as group president of Verizon Telematics and as CEO of Network Fleet before its acquisition by Verizon.
The discussion covered a range of topics, including:
IoT market sizing (hype vs. reality): The point was made that new use cases are continually being developed in the IoT sector, and much of the growth may come from new applications that we can't even foresee today. Our own published estimates are for 50 billion connected devices by 2020, reflecting a compound growth rate of 22% annually. We also estimate that $6 trillion will be invested in the next five years, more than total investment in 4G and 5G combined.
How IoT is accelerating the development of the sharing economy: IoT enables a shift from the classic concept of ownership to a rented or shared model. The traditional "sale" event as a one-time transfer of title may become less clear. And information about product usage flowing back to the manufacturer or distributor enables them to take a more active role in the aftermarket cycle.
Opportunities for investing in the middle market: As IoT becomes more and more the purview of multibillion dollar players, where does one look for investment opportunities in younger, up-and-coming companies? A few of the areas discussed included IoT security, a significant issue that impacts adoption and sector growth, data management and analytics. Other areas are in the network where companies such as John Horn's Ingenu are developing whole new platforms purpose built for carrying IoT data and free of the constraints imposed by cellular infrastructure. The distinction between vertically oriented solutions, of which there are many in existence in IoT, and more universal, horizontally applicable technologies was mentioned as an element impacting company valuations, in addition to other, commonly cited variables such as revenue model, business growth and profitability.
An IoT M&A update
Year to date, 2016 has been very active for M&As in the IoT sector, with a total of 80 transactions through September 30, equal to the number for the full year 2015. However, total disclosed value of transactions has increased 3.5 times to over $3.5 billion, reflecting an increase in average (disclosed) transaction size from $12.5 million to $44.8 million. Part of the jump is attributed to the acquisition by Cisco of Jasper Technologies announced in February 2016 — the sector's first M&A deal valued at over $1 billion. Even without the Jasper transaction, total disclosed value has increased more than 2 times, driven by other large deals such as Alphabet's acquisition of Apigee in September for $516 million and Honeywell's acquisition of Xtralis in February for $480 million.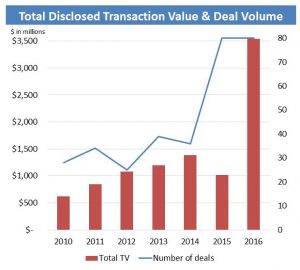 All three of these 2016 transactions fall in our "top 10" list of IoT M&A transactions going back to 2010. We believe this is reflective of the increased maturity of leading sector innovators and the growing aspirations among leading technology companies to be part of the future growth. Because of the high growth — and also because IoT touches on so many industries and itself encompasses so many applications and business models — we are hearing from a very wide range of corporate and financial buyers seeking to acquire in the sector.
All IoT Agenda network contributors are responsible for the content and accuracy of their posts. Opinions are of the writers and do not necessarily convey the thoughts of IoT Agenda.