News
Stay informed about the latest enterprise technology news and product updates.
IoT mergers and acquisitions update: 2017 year to date
A significant decrease in deal activity in the first six months of 2017 is proving 2016 to be the record year in IoT mergers and acquisitions by a large margin (see chart below).
So far in 2017, we have cataloged a total of 45 transactions, a 21% decrease from the 57 deals done in the first six months of 2016. It should be noted, however, that deal volume so far in 2017 exceeds each of the five full years from 2010 to 2014, and is on track to exceed 2015's 70 deals by the end of this year.
More significantly, disclosed dollar volume of $2.3 billion in 2017 year to date is $14 billion lower than in the same period of 2016. While 2016 witnessed five "mega-deals" over $1 billion, including Softbank's $31.4 billion acquisition of ARM, there have been no deals over $1 billion yet in 2017. Excluding last year's mega-deals, 2017's year-to-date aggregate transaction value is almost equivalent to the same period in 2016, amounting to $2.3 billion and $2.5 billion, respectively.
The biggest deals in 2017 year to date are the acquisition of ServiceMax, Inc., a cloud-based asset tracking and field management company, by GE Digital for $915 million, and the acquisition of Comptel Oyj, a data fabric and advanced IoT analytics company, by Nokia Solutions for $373 million.
While telematics technologies represented almost half of the 2016 IoT M&A transactions (approximately 60 transactions out of 119), followed by hardware and devices, the Comptel Oyj/Nokia transaction is symptomatic of the strong interests in IoT analytics (big data for IoT), security, smart offices and homes.
In addition, we highlight the following points:
Seven out of the 10 largest 2017 targets have been U.S.-based
21% of 2017 deals year to date targets have been based in Asia
Median deal size is down to $73 million for 2017 from $100 million over the same period in 2016
There is a large pipeline of 20+ transactions in closing stage as of today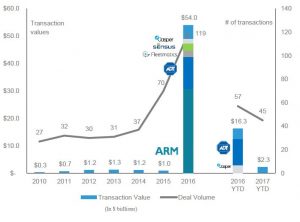 Private placement update
Private placement transaction volume for the first six months of 2017 has experienced an increase in total transactions (78 versus 68 for the first six months of 2016) representing an increase of 14.7%. Mirroring the trends in mergers and acquisitions, 2017's 78 deals in the first six months exceeds each of the full years from 2010 to 2014 and is on track to become a record year, with the potential to exceed deal volume of 92 and 137 in 2015 and 2016, respectively.
Dollar volume, however, is significantly lower, slipping from $1.9 billion in the first six months of 2016 to $430 million in 2017 year to date. Average transaction size has also declined significantly, from $31 million in 2016 to $6 million in 2017. In 2017, earlier stage financing rounds (series A and B) have contributed to the lower dollar volume and average deal size.
Just as we saw in the M&A market, record dollar volume in 2016 was driven by a few large deals. Infineon's Series E financing of $935 million and Sigfox' raising of $160 million together accounted for over half of total dollar volume for the first six months of 2016 and were a major influence on average deal size. The most significant private placement in the first six months of 2017 is Actility's $75 million raise in April.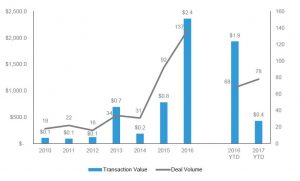 All IoT Agenda network contributors are responsible for the content and accuracy of their posts. Opinions are of the writers and do not necessarily convey the thoughts of IoT Agenda.