Get started
Bring yourself up to speed with our introductory content.
IoT in logistics: We ain't seen nothin' yet
It wasn't an April fool prank; Alibaba did overtake Wal-Mart as the world's largest e-commerce retailer this April. What's this got to do with IoT or Logistics? Jack Ma, the founder of Alibaba credits the Internet and the smartphone as the keys to this success. A majority of the transactions were from mobile phones. How else can you take orders worth $1.5B in 12 minutes from anywhere? Would Uber be possible without a smartphone? New business models using the Internet and smartphones are changing how we order, receive and pay for things. Apple and Steve Jobs deserve credit for making the smartphone such a great thing.
There are many similarities in the evolution of the smartphone from a personal digital assistant envisioned by Apple with what is happening in IoT. Some lessons learned from developing the smartphone are also applicable to IoT development and its continuing success:
The thing has to be easy to use.
It takes an ecosystem for a thing to succeed. In the case of a smartphone, it was the Internet, telecom networks, software services and millions of applications developed by others and zettabytes of other people's data stored in data warehouses scattered across the globe.

IoT is permissionless innovation. IoT is not controlled by any single company.
Unicorns and rabbits running over gorillas
The Alibaba-Wal-Mart example just makes a point that it does not matter how big you are, you cannot rest on your laurels. There are unicorns, rabbits and all kinds of things disrupting existing markets or creating new markets. Nothing is sacred.
We are now moving into the next phase in IoT with a major shift. Billions of devices and sensors will be deployed in systems of ecosystems. Billions of devices and sensors will have to be managed securely. We will be moving from things with human interfaces to devices and sensors without human interfaces. This requires a different thought process. Devices and sensors embedded in driverless vehicles, machines, drones, ocean containers/reefers, farms and cargo moving all over the world create more opportunities for change and employment than anything we have seen yet.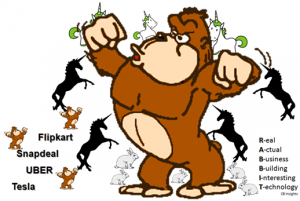 The potential of IoT is much bigger than what the Internet and the smartphone enabled. However, for a meaningful conversation of such a broad domain as IoT, I picked on IoT in Logistics (IoTiL) as the scope that readers in this community may want to engage and participate in growing the ecosystem.
Why logistics?
Logistics is more permanent than death and taxes. As long as there are people on this planet, logistics is essential for our survival and happiness. Everything physical that is made, grown or sold involves logistics. Logistics is a cost sensitive business. The logistics ecosystem is a complex web of multi-level outsourced services dispersed globally. The opportunities for IoT in logistics are infinite.
A single company selling $476B worth of goods on the Internet is only half the effort. Delivering the ordered goods to the satisfaction of the customers in the shortest time is the other half.
3rd party information logistics (3PIL)
A new industry is in the making. What e-commerce did to brick and mortar businesses, 3rd party information logistics (3PIL) will do to 3rd party logistics (3PL). Digital networks of supply chains will be created by devices and sensors automating data collection outside the enterprise. Devices communicating at digital speeds 24/7 without human touch will use new IoT dependent ecosystems and applications with less complexity for humans to deliver and unlock value not possible before.
Amazon's recent investment in its own logistics emphasizes the growing importance of logistics to support its global growth, address new delivery requirements and reduce logistics costs. While Amazon invests in hyperscaling its logistics, how can smaller businesses and vendors with less financial resources step up their logistics? All e-commerce businesses big or small including Wal-Mart, Alibaba and e-commerce unicorns such as Flipkart and Snapdeal in India have to step up their logistics to remain competitive. IoT in logistics is the new digital foundation that future digital supply chain networks will be built on.
Given the hype around IoT, it is difficult for logistics decision makers to know what works. The devices and applications are evolving rapidly. As the funding in the industry slows down the emphasis will now shift to monetization of recent innovations in IoT.
Next steps
How can we collaboratively accelerate successful IoT implementations?
How can we use IoT for good and also be profitable? The food industry, for example, struggles with waste and spoilage as high as 40% in many countries.
How can IoT benefit 99% of the people? National interests must be addressed for IoT to be successful.
If you want to engage in building an ecosystem using IoT in Logistics (IoTiL) please respond with your comments.
All IoT Agenda network contributors are responsible for the content and accuracy of their posts. Opinions are of the writers and do not necessarily convey the thoughts of IoT Agenda.