Get started
Bring yourself up to speed with our introductory content.
IoT in Logistics: Where's the money? Part 1
The U.S. exports about $1.5 trillion worth of goods and imports about $2.2 trillion. That is a total of $3.7 trillion in goods moved by logistics. The total value moved globally exceeds $17 trillion. Logistics is as real as death and taxes.
Knowing where the money is spent in logistics helps identify the opportunities for making money. We learned many lessons replacing the global procurement pricing system for the #1 supply chain company in the world. The three key lessons we learned:
Bad data is used to make decisions in the best of companies
Logistics costs are not visible
Cost savings have unintended consequences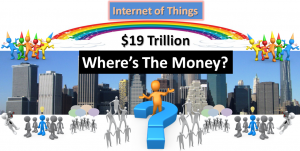 Bad data
Bad data is a major hidden cost. Bad data includes missing data, late data and wrong data. Users and systems compensate for bad data with "versions of truth." The perpetual recurring cost of bad data is too embarrassing to admit.
How can IoT reduce bad data?
Automated data collection using IoT creates a clean new source of data at digital speeds 24/7. The speed and accuracy of IoT data provides the ability to automate process decisions. Keeping IoT data and processing separate from bad data is key to better decisions. Subscribing to information instead of data is smarter and eliminates non-value add costs.
Invisible logistics costs
Procurement focuses on material costs and not logistics costs. Logistics in most companies is outsourced. It is complex and involves many third parties. Unraveling the costs and accessorial charges is another business function that is outsourced to billing audit specialists.
In a global logistics scenario there could be many custody transfers of goods in transit. For example, transporting a container involves a truck and a chassis to carry the container. Two different service providers may be involved in each transfer. The Port of Long Beach handles about 7.2 million twenty-foot equivalents (TEUs) per year. The Port of Shanghai handles about 35 million TEUs. That is about 28 million chassis moves at two ports. How efficient do you think chassis management is?
How can IoT make logistics costs visible?
IoT in logistics captures data of physical movement of goods. This is a structural change in the level of data granularity for supply chain visibility. Every service touch point incurring cost can now be digitally visible. This is also a basic building block for blockchain technology.
Unintended consequences
The harsh reality of cost savings is that someone loses revenue. This creates friction and resistance to change with unintended consequences. Cost savings do not trickle down to people at the bottom of the supply chain. Compare your spend on resources and systems (ERP, S&OP, WMS, TMS, etc.) to fulfill customer orders with the income of a driver who makes the deliveries. What benefit does the driver realize from the investments? Even Uber faces the same challenges and is responding with driverless vehicles to address driver shortages. In emerging markets, national interests in economic growth favor increase in employment of drivers for transportation.
How can IoT reduce unintended consequences?
IoT in logistics can deliver value on first use. No waiting on promises of ROI. IoT deployments in logistics are at the ends of physical supply chains. The benefits of IoT can be accelerated if the people working at the ends realize direct benefits first. For example, consider the hours a driver spends waiting to pick up or drop off a delivery. The reimbursement process for hours-waiting is a constant source of friction and distrust. IoT eliminates friction with visibility and exposing process inefficiencies. Drivers can make more trips, earn more, increase equipment utilization and operational efficiency. A win-win for all.
Where's the money?
Look for big repeatable opportunities in global exports and imports. Think simplification to eliminate cost and create affordable IoT based solutions across industries. Examples of rapid growth or change are e-commerce, food supply chains and 3rd party information logistics (3PIL).
E-commerce
Global e-commerce double-digit growth rates cannot be ignored. Amazon, Alibaba and Flipkart are examples of e-commerce on different continents. The success of Amazon and the rapid growth of Alibaba are undeniable. They recognize that logistics controls the path to profitability.
India presents one of the largest new opportunities from initiatives promoted by the Indian Government such as "Digital India," "Make in India" and the most comprehensive tax reform by passing the Goods and Services Tax Bill. Supply chain logistics can play a key role in ensuring the success of these initiatives to achieve GDP growth targets of 7.2%. Think logistics and not just tax accounting.
The food supply chain
A McKinsey & Company article on food wastage states that in emerging economies, 32% of total loss occurs during production. In developed countries, 38% of loss occurs during consumption. Agri inputs can represent 60% of the cost of goods sold. If doing good is in your thoughts, this is worth solving. The African continent presents the largest immediate opportunity in the world to manage the food supply chain lifecycle with affordable IoT. Emphasis is on affordable IoT. Agriculture-based economic transformation of the African continent has increased commercial farming. The impact of climate change raises the level of urgency to address this issue for all food companies sourcing from Africa.
3rd party information logistics (3PIL)
Supply chain problems are common global problems. IoT solutions in logistics have global market applicability. The largest combined global opportunity is in transforming 3rd party logistics (3PL) services to 3rd party information logistics companies. 3PLs are constantly challenged to deliver faster, cheaper and better service with visibility. 3PLs that transform themselves from pre-IoT technologies to IoT driven digital networks will survive the competition from new tech savvy 3PILs.
Logistics is one of the few domains where Millennials and experienced supply chain professionals can combine the value of unconstrained thinking with pragmatism to deliver value on first use.
In Part 2, I will present successful examples of IoT delivering value on first use.
All IoT Agenda network contributors are responsible for the content and accuracy of their posts. Opinions are of the writers and do not necessarily convey the thoughts of IoT Agenda.