Get started
Bring yourself up to speed with our introductory content.
IoT and the big gap
We have all heard the hype around IoT: billions upon billions of connected devices will produce an industry worth trillions of dollars by 2020. Regardless of these crystal-ball projections, the fact remains that most businesses are only now starting to visualize ways to implement an IoT project in their organization to lower operating costs, increase production output and reduce manufacturing times.
When I speak with executives of large corporations and small businesses alike, I hear the same thing: Where or how do we start? The IoT end-game simply seems too far away and, for many, somewhat of a gamble considering the amount of time and money necessary to see their ideas commercialized.
The cost and complexity of the product design process are significant barriers to innovation. From initial concept to commercialization of an IoT project development, there is a gap — and it's BIG. Today, many companies are falling into it and don't know how to get out.
Executives and developers want flexibility to validate ideas, field test different configurations and evolve prototypes based upon feedback rather than building a full, polished IoT product immediately. Without such an incremental design approach, it is similar to constructing a brand new home without a proper blueprint.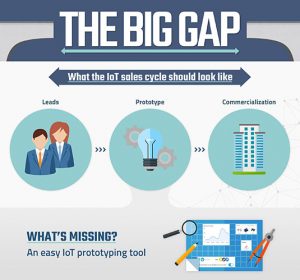 Designers, engineers, VARs, system integrators, MSPs, ISVs and anyone wanting to begin an IoT project must first build a proof of concept. It can be a technical challenge to rapidly prototype an IoT product from scratch.
Even experienced developers familiar with IoT have to source the devices, sensors and motors; connect these devices; then stream the data into the cloud and make everything communicate with each other. These tasks have to be accomplished before developers can even start building out their use case for commercial use.
With IoT still in its infancy, tools have not been readily available to make the rapid prototyping process easy and cost-effective. The industry has been in desperate need for something that accomplishes what AutoCAD does for architects to get their projects started. Thankfully, solutions are beginning to emerge that will assist companies in this endeavor.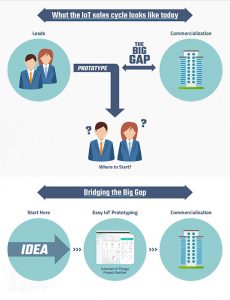 All IoT Agenda network contributors are responsible for the content and accuracy of their posts. Opinions are of the writers and do not necessarily convey the thoughts of IoT Agenda.