News
Stay informed about the latest enterprise technology news and product updates.
IoT, NFC and 'The Internet of Mysterious Things'
IBM Master Inventor Lisa Seacat DeLuca's recently published book was inspired by IoT, near field communication (NFC) and two sets of twins under the age of four.
I had the chance to speak with Lisa about IoT and NFC along with her new children's book called The Internet of Mysterious Things. With 70 patents already and another 300 pending plus an active speaking, work and family schedule (the two sets of twins under the age of four are hers!) I'm glad we could find some time to chat. Here's what she had to say:
What is your new book, The Internet of Mysterious Things, about and why write it for children?
I'm a mom to two sets of twins, my oldest set are four years old and always asking me how things work. More often than not those "things" are IoT devices. So I'd explain what I knew and then go and read up on what I didn't so I could help teach my children. Then I thought that the perfect children's book would explain how technologies worked through the use of mysterious creatures and then allow parents to learn how the technologies actually worked through a companion website.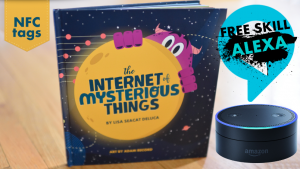 How did you integrate NFC tags into the story?
To make it easier on the parents to pull up more information about the story, each page has an NFC tag hidden within the artwork. By tapping your phone to the NFC tag, a website specific to that page will launch on your phone talking in more detail about the technology. At first I was only going to have a few tags, but they were such a perfect technology that really brought the book to life so I ended up putting one on each of the technology pages. There are 10 tags in the book. NFC and IoT work very well together.
What do you find most fascinating about NFC technology?
NFC is frictionless. You don't need to open up an app first and then scan a barcode. You just tap and go. That's a big advantage over other technologies. NFC is easy and it's just now starting to grow in popularity. I'm crossing my fingers that Apple opens up support for developers to read and write to NFC tags. As soon as they do we're going to see an explosion of NFC use cases that'll bring all of our things — IoT devices included — to life.
I'm sure your children and their friends have read your books. Do you think your books will help spark their interest in science and technology?
Absolutely! My kids are still young, but the beauty of the book — and IoT — is it's interesting for both young children and older children because they can dive in and learn as much about the technologies as they'd like. My children love the artwork and are beginning to soak up some of the interesting facts about IoT.
What book are you reading right now and why?
Unfortunately most of my reading these days is stackoverflow.com for debugging and sites like IBM DeveloperWorks to learn about new technologies. The last book I read for fun was Ready Player One. I can't wait for the movie.
To order Lisa's book, go to http://internetofmysteriousthings.com. The book will ship in May and you can order directly from the website.
At 34 years old, Lisa Seacat DeLuca is the most prolific female inventor in IBM history and her accomplishments have been recognized widely throughout the industry. She is an IBM master inventor and holds 70 patents with another 300 pending. Recently, she was inducted into Women in Technology International Hall of Fame and named one of the Most Influential Women in IoT, and before that DeLuca was named one of MIT's 35 Innovators Under 35 and one of Fast Company's 100 Most Creative People in Business. She is also the mother of two sets of twins under four years of age. Near field communications, and all the possible wonderful innovations it could enable, is a particular passion of hers. For more information visit: http://lisaseacat.com/
All IoT Agenda network contributors are responsible for the content and accuracy of their posts. Opinions are of the writers and do not necessarily convey the thoughts of IoT Agenda.