Get started
Bring yourself up to speed with our introductory content.
Industrial internet unveils a new era for mobile apps
Cisco's 2015-2020 Visual Networking Index Report forecasts there will be 1.5 mobile devices per capita by 2020. And the number of connected devices (including M2M modules) will be 11.6 billion, exceeding (by then) the world's projected population of 7.8 billion.
In 2015, mobile app revenue was $69.7 billion globally. According to Statistica, by 2020 this number will triple to $188.9 billion, mainly via app stores and in-app advertising.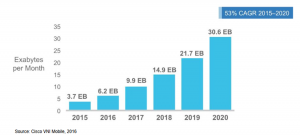 Since 2008, the rise of smartphones, high-speed mobile connectivity and app stores has fueled mobile apps to capture a big share of revenues in the mobility industry. During the early days of inception, between years 2008 and 2013, more than 2 million mobile apps were developed by 300,000 app developers.
Starting with gaming, weather and personal health, the first wave of mobile apps solely served consumer and retail markets, and were disbursed primarily through the Apple App Store and Google Play.
Since 2010, enterprise mobility and BYOD ushered the second wave of mobile apps, when enterprises explored mobility to boost workforce productivity, collaboration and to streamline processes.
Come 2016. That's when traditional industries with lots of offline physical assets like manufacturing, oil and gas, transportation and healthcare began to buy into the promise of instrumenting and connecting assets to boost not just productivity, but profitability as well.
That's the era of the industrial internet of things, which is much more than what Wall Street or consumers understand by "IoT" (that is, wearables tethered to smartphones).
And it's this industrial internet that's fueling the third wave of mobile apps as we speak.
Industrial mobile apps go mainstream
Mobile apps aren't altogether new to traditional industries. According to a 2014 Canvas Study, more than half of manufacturing businesses used file storage apps, 51% used Dropbox, 23% used apps like Evernote to take and share notes, 33% used a CRM system and 47% used accounting apps like QuickBooks.
However with the industrial internet, mobile apps are no longer limited to support functions, but penetrating into mainstream industrial operations.
As industrial companies begin to gain big data insights with connected assets, the real business opportunity lies in allowing operators and technicians to have access to that data not just from control rooms, but from anywhere and at any time.
Right insights at the right time mean well-informed decisions and faster response to drive better outcomes.
This is a huge opportunity for industrial suppliers. And the good news is we don't have to start from scratch. Industrial apps can leverage and build on top of technologies already tried and tested with consumer mobile apps. As an example, industrial companies involved in fleet management, asset tracking and data storage can build on top of Google Maps and Waze.
Let's take the example of Seven Telematics, a UK-based manufacturer of Transcan temperature recorders (widely used as road-transport monitoring devices). To eliminate distracted driving, Seven Telematics partnered with an app development company to build a secure mobile app leveraging Google Maps. The app fitted its global users with fleet data that's accurate up to the minute. Point is, industrial apps need not always start from scratch, but build industrial-grade apps faster with better precision.
Few essentials to build successful mobile apps for industries
To obtain predictive and prescriptive insights based on big data, mobile apps are positioned for spotlight in the fast-emerging "data supply chain."
Business decision-makers understand this. Accenture Mobility Research 2015 found 87% of enterprise leaders consider mobile apps as necessary to fully realize the benefits of digital technologies. Eighty-two percent consider mobile apps an integral part of their organization and 81% believe mobile apps are key to unlocking vital data.
However to bring real value to industrial and enterprise environments, mobile apps must meet performance standards that were unasked from their consumer counterparts.
Let's discuss few key expectations.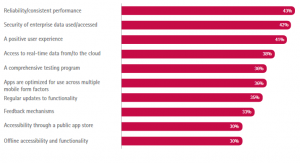 Reliability and data accuracy: Mobile apps allow operators to track assets and process KPIs, data from any sources including ICS/SCADA, alerts and notifications to trigger fast action. But the consequences of an energy plant or nuclear system app crashing could be pretty dire. False alarms are equally unacceptable. So app development must plan for enough training data sets, QA and conformance testing.
Industrial security: Cloud computing and storage allow industrial apps to reduce costs and improve performance. But cloud-based app platforms must improve cybersecurity sufficiently to build operators' confidence in using third-party apps on the cloud. Security must be integral at every stage, from app platform and design to install, including usage of intrusion detection tools, password enforcement, access control, sandboxing apps and conformance to industry standards and government regulations.
Expertise in industrials: Industrial operational workflow and data supply chain variables are key to building apps that deliver real value. How to build domain expertise? Well, partnerships between industrial team and software development companies become imperative. App developers can work closely with industrial process experts during concept, design and test phases.
User-friendly design: Industrial operations are way more complex than consumer and retail. Besides, industrial users are comfortable handling data in certain ways. UX design has to carefully plan a user-friendly interface and easy access to data.
Real-time performance: Connected assets generate large volumes of time-series data demanding real-time processing. Apps must scale and be flexible enough to handle and present large data sets and analytics-based insights to enable their users act faster.
New challenges, new opportunities
Even though the purpose and dynamics of industrial app markets are different from their consumer counterparts, consumer app development models can still be leveraged in this fast growing industry. Industrial apps can be built for a limited number of platforms which offers robust toolkits to build industrial-grade apps faster. GE Digital's Predix and PTC's ThingWorx platforms are good moves in that direction. Yet more work is needed to improve security, accessibility and QA robustness to meet industrial standards.
While software companies can use the business model around the app store concept, they also need to adapt to industrial markets with fewer yet larger customers. And by striking the right partnerships between industries and software development companies, we can set our eyes on a huge win-win opportunity ahead.
All IoT Agenda network contributors are responsible for the content and accuracy of their posts. Opinions are of the writers and do not necessarily convey the thoughts of IoT Agenda.