Get started
Bring yourself up to speed with our introductory content.
How to simplify your topology for IoT and the digital edge
IoT is digitizing the physical world, and as a result driving — or even forcing — the need for new technology and business models. Digital transformation will be critical for success in the IoT era, and businesses must embrace this transformation at the edge. Without it, they risk seeing their businesses decline or perhaps even fail. In fact, Accenture CEO Pierre Nanterme noted that digital is the main reason half of the companies in the Fortune 500 have disappeared since 2000.
Digital transformation is not simply about transforming business processes from analog to digital. It's about:
Transforming IT architecture from legacy and siloed to integrated and dynamic
Coping with the overwhelming data demands of the IoT and real-time big data analytics — all while delivering a fast, satisfying end-user experience
Interconnecting scores of globally dispersed application and cloud services, leveraging APIs, digital payments and smart contracts
The demands of digital transformation on the traditional network infrastructure can seem overwhelming, if not impossible, to manage. Not only does transformation demand highly expensive network bandwidth, it requires you to solve the problem of latency, which means shortening the physical distance between global applications, data, clouds and people. We're not just talking about latency between you and your customers, but latency among all the dispersed digital systems and interconnections required to create and deliver digital goods. You can throw all the bandwidth you can afford at the problem, but no amount of bandwidth will solve the physics of latency.
Re-architect for the digital edge and simplify your topology
The answer to the complexities of digital transformation is to re-architect for the digital edge, where population centers (customers, employees, partners) and digital ecosystems (IoT, clouds, mobile, social networks, B2B partners) meet. You can simplify your network topology by deploying an what we call an "Interconnection Oriented Architecture" strategy, a proven and repeatable architectural framework that directly and securely connects people, locations, clouds, data.
Start by leveraging a network blueprint that brings the LAN and WAN together and creates "digital edge nodes." The following lays out the first three steps you can take to re-architect your network for the digital edge.
Step #1: Redefine the edge
Rethink your network architecture and move many of your digital business/IT functions from a centralized, core enterprise network to strategically located, distributed edge nodes. Each edge node is strategically placed geographically close to customers and dense ecosystems of partner systems, cloud services, and network and internet provider peering points. This will help you enhance network performance, resiliency, scalability and security.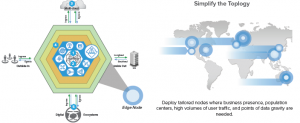 Step #2: Prepare for business partner, cloud and network integration
Companies can tailor digital edge nodes for different network and traffic types that must be localized/regionalized, optimized and segmented. Most likely, a company may deploy edge nodes in major global metropolitan areas with high user traffic, numbers of IoT devices and data density — where a business presence would be a strategic advantage. Then, they can directly and securely cross-connect their colocated systems with partners, cloud services and network providers over private, proximate, high-speed links. All edge nodes can also be interconnected via optimized WAN connections.
Step #3: Create more effective and cost-efficient service chains
Dense partner, cloud and network provider ecosystems offer not only fast cross-connects, they lower the interconnection cost compared to connecting over expensive, long-distance MPLS or the public internet. Cloud and network provider choice also inevitably leads to more efficient multicloud deployments and lower network costs at the same time as it slashes latency dramatically, often by 80% or more. And, aggregating connectivity at a colocation edge node and securely cross-connecting segmented traffic flows can deliver dramatic benefits in sustainable cost reduction, improved performance and enhanced security. By service chaining clouds, applications and data together across locally cross-connected cloud providers you can increase the efficiency of and the value from your IoT infrastructures.
Simplifying your network topology by deploying distributed digital edge nodes will give you the increased network performance, resiliency and scalability needed to embrace the IoT and succeed in your digital transformation.
All IoT Agenda network contributors are responsible for the content and accuracy of their posts. Opinions are of the writers and do not necessarily convey the thoughts of IoT Agenda.