Get started
Bring yourself up to speed with our introductory content.
Forget Rudolph, IoT is Santa's new best friend
In the digital age, even Santa Claus is under pressure to deliver an improved customer experience. So he will be grateful this year for a new tool to help him plan his deliveries across the globe. Santa's 2016 world tour will be faster, more agile and more productive than ever thanks to the internet of things. IoT is helping supply chain managers across the globe to develop more efficient manufacturing and distribution processes than ever before.
An IoT-enabled supply chain provides critical information such as location, speed, product temperature, vibration and product condition. These pieces of information can be used to calculate ETA and take action if products in-transit aren't maintained in the contracted manner. This information can also be used to synchronize multiple assets together to remove wait times, congestion and, in short, remove an aspect of supply chain waste that practitioners created workarounds for years because the granular level of visibility needed to eliminate them wasn't available. An IoT-enabled supply chain has the ability to decrease costs, but it is only one aspect of a resilient supply chain.
A specter of the Christmas-that-almost-wasn't arose recently when a large shipping company, Hanjin Shipping Co., suddenly went bankrupt. Around 90 huge container ships were stranded at sea, during the peak pre-Christmas shipping period. These ships were carrying half a million containers of electronics, clothing and furniture worth about $14 billion. Few ports would let them in, creating logistical problems around the world and giving many retailers a good reason to worry in the run-up to the holidays.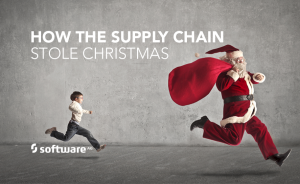 While many may think of supply chains as linear processes — where Christmas goods come directly from the supplier (the North Pole) to sit under their tree — these are actually complex systems that create, receive and distribute products to customers with many checkpoints along the way. In the modern supply network, IoT is the link that allows us to intelligently connect all the people, processes, data and things at each point. This collection of technologies — sensors, servers, analytics engines, etc. — is able to make sense of real-time data coming from each step in the supply chain, allowing managers to evaluate and predict events more accurately than ever before.
A disruptive event such as the Hanjin bankruptcy may be manageable after the fact, but the damage is already largely done — late shipments, lost revenue and unhappy customers. This is why it is important to prepare in advance and deploy technology that makes it possible to identify possible disruptive events before they happen.
In the case of Hanjin, there had previously been rumors about its financial instability prior to the bankruptcy. The issue is that it's difficult for supply chain managers to act on rumors. It's even more difficult to ascertain truth from fact in discussions with the vendor. Instead, if a receiving Hanjin shipper or customer received an actionable alert about Hanjin's financial problems, you could have taken steps to mitigate the potential future risk, such as finding an alternate shipping company, or guaranteeing that critical or time-sensitive inventory such as Christmas stock always leveraged a transportation company with a low-risk profile.
The holiday season is usually a merry time for manufacturers, retailers and consumers, and with increasing IoT adoption, happiness and peace of mind will abound. By connecting all the elements in their operating infrastructure, supply chain managers will enjoy lower costs, greater insights with the ability to better respond, in real time, to changing conditions and changing needs. Ensuring your supply chain has visibility to risks, regardless of their origination, and the ability to manage or mitigate those risks will ensure your company will have a merry holiday season as well.
All IoT Agenda network contributors are responsible for the content and accuracy of their posts. Opinions are of the writers and do not necessarily convey the thoughts of IoT Agenda.