Definition
ubiquitous sensor network (USN)
A ubiquitous sensor network (USN) is one that connects all possible sensors in a given network or environment which, theoretically, could be global.

Download this free guide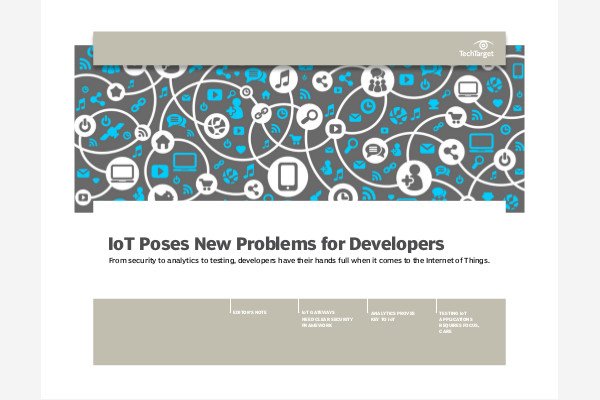 Download Now: The Developer's Guide to IoT
The Internet of Things (IoT) world may be exciting, but there are serious technical challenges that need to be addressed, especially by developers. In this handbook, learn how to meet the security, analytics, and testing requirements for IoT applications.
By submitting your personal information, you agree that TechTarget and its partners may contact you regarding relevant content, products and special offers.
You also agree that your personal information may be transferred and processed in the United States, and that you have read and agree to the Terms of Use and the Privacy Policy.
Typically, the sensors in a USN are smart sensors, which take input from the physical environment and use built-in compute resources to perform predefined functions upon detection of specific input, and then process data before passing it on.

A ubiquitous sensor network taps into the communications equipment in sensors in its defined network or range and collects the data from sensors as well as controlling actuators. Wireless sensor area networks (WSAN), the previous generation of sensor networks, can be easily incorporated into ubiquitous sensor networks.
Ubiquitous sensor networks add scalability through mesh networking and a use of tags. USNs are fault tolerant. Other capabilities can include real-time location awareness, remote configurability and the capacity to be relocated without manual configuration.
USNs are used in security, intrusion and occupancy detection, access control systems, CCTV, outdoor lighting systems, military monitoring, and manufacturing monitoring and control systems. The technology is one element of the developing Internet of Things (IoT), in which almost any imaginable item can be made addressible and given the ability to transmit data over a network.
Ubiquitous sensor networks raise significant issues for both security and privacy. The fact that they interconnect tiny sensors and do so invisibly means that they can be used to monitor environments surreptitiously for surveillance purposes.
Continue Reading About ubiquitous sensor network (USN)
Dig Deeper on Internet of Things (IoT) Network Infrastructure