Evaluate
Weigh the pros and cons of technologies, products and projects you are considering.
IoT data and AI will define the next generation of business
Earlier this May I wrote that, following a year where the internet of things found the mainstream, 2017 would be the year for IoT acceptance, appetite and evolution. Key trends highlighted in the article, like security, strategic partnering and public sector uptake, were all central to the Internet of Things World 2017 agenda; three themes covered by FBI CISO Arlette Hart (among others) in her keynote panel session and subsequent interview.

Download this free guide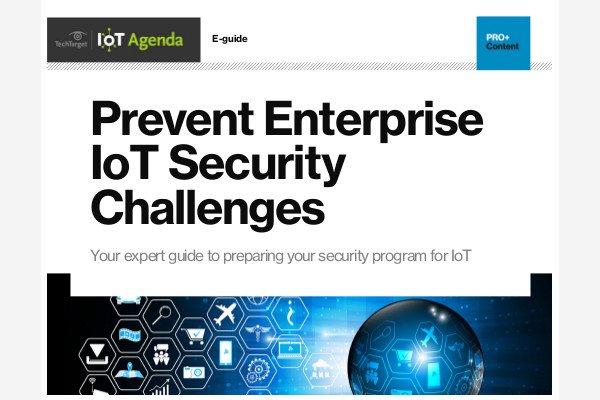 Download Our Guide and Overcome IoT Security Challenges
The IoT is imminent – and so are the security challenges it will inevitably bring. Get up to speed on IoT security basics and learn how to devise your own IoT security strategy in our new e-guide.
By submitting your personal information, you agree that TechTarget and its partners may contact you regarding relevant content, products and special offers.
You also agree that your personal information may be transferred and processed in the United States, and that you have read and agree to the Terms of Use and the Privacy Policy.
Of all the trends covered, the proliferation of big data and machine learning in conjunction with the growth of IoT across businesses seems the most exciting. The internet of things means nothing to anyone without the data it harvests; the next generation of business will be defined by the way in which companies apply artificial intelligence to this and analyze the data they collect. By 2019, Cisco expects IoT devices to be generating 507.5 zettabytes of data annually (the analyst estimates the world's collective internet usage only hit 1 zettabyte in September 2016). These are gigantic data streams offering a virtually limitless number of insights.
Active examples of enterprises applying IoT data and machine learning to great effect already exist, with case studies from the Bay Area and beyond demonstrated at IoT Data & AI Summit in Palo Alto back in November. Here are four use cases that should grab the attention of all technology-oriented enterprises:
All IoT Agenda network contributors are responsible for the content and accuracy of their posts. Opinions are of the writers and do not necessarily convey the thoughts of IoT Agenda.